Lifestyle: The Outdoor Adventurer
Nothing beats the great outdoors. For some people, not even the bright lights of Vegas can deter them from hiking, skiing, snowboarding, rafting and discovering all nature has to offer. Luckily, in Las Vegas, we have it all at your fingertips.
Q: I'm an outdoor enthusiast. What spots should I be sure to hit?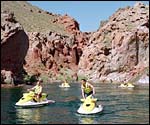 A: There are many opportunities for outdoor recreation in the Las Vegas area.Two of the most popular spots in town are Red Rock Canyon, for hiking in the summer, and Mt. Charleston for hiking, skiing and snowboarding in the winter. Should you wish to relax in luxury and let someone else do the driving, check out our Red Rock and Valley of Fire tours. At Mt. Charleston, check out the Las Vegas Ski and Snowboard Resort, which is open from Thanksgiving to Easter.
Water enthusiasts can ride the waves at Lake Mead (or cruise the lake in comfort) or head out to the Hoover Dam (you can take an air, bus or Hummer tour as well). Or if you're really adventurous, try a Hoover Dam River Rafting tour. Other places you'll want to visit include the Valley of Fire, where you can explore petroglyphs and camp, and of course, the Grand Canyon, which offers a great many options.
If you want to enjoy the great outdoors without leaving the city, check out the 180-acre Springs Preserve. This cultural and historical attraction also features an 8-acre garden you can walk around and four trails that lead to the Preserve's cienega, a desert wetland that serves as a home for hundreds of native plant, bird and animal species. The café is a great place to dine while enjoying the lush desert scenery.
Q: I like to get my adrenaline pumping. Can you name some extreme outdoor adventures?
A: No problem! How about flying above the desert like a bird? On the Flightlinez Bootleg Canyon you can soar through the air on a zip line. Feeling the need for speed? Ride the same dune buggies in the desert.
For an exciting off-road experience, thrill seekers can take either a dirt bike or SUV off-road tour.

Q: What other sport-related attractions are there in Vegas?
A: You'll find great outdoors shopping at REI in the District at Green Valley Ranch and at the Bass Pro Shops Outdoor World at Silverton.