Lifestyle: The International Traveler
So you've come all the way from a different country, continent, time zone, culture or planet just to see Vegas? We appreciate it. If we didn't already live here, we'd want to visit, too. Here's some special advice for all you friendly foreigners.
Q: Should I carry my passport with me at all times?
A: You just had to start with a tough question, didn't you? Technically, you should carry some form of identification with you, since you will need that to verify who you are when paying with credit cards, cash traveler's checks, prove to the employees in the casino that you are over 21, etc. However, it is understandable that you wouldn't want to carry your passport with you while you are out partying. We'd get paranoid about the darn passport, too. Hence, we suggest taking another form of easily recognizable ID (which should work for clubs, gaming, etc.). If you think your country's form of ID looks, well, not very official (we are thinking of the old paper drivers' licenses here) then consider taking your passport with you, just in case. Another option is to get an international driver's license, which are not expensive, even if you don't intend to drive in the United States. There is nothing worse than trying to get into a nightclub and having the bouncer reject your ID. However, if you want to use traveler's checks, you will need to present your passport. We recommend locking your passport and other valuable documents in the free safe deposit boxes that most hotels provide. You will need a major credit card to activate the safe, but no charge will be added to your card. Some hotels also offer safes in your room.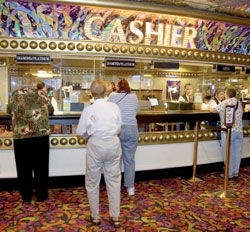 Q:Where should I exchange my foreign currency and obtain those valuable dollars of yours?
A: Actually, the cages (Vegas lingo for "the main cashier") in most major casinos will gladly take your money and give you back a bigger or a smaller stack of bills, depending on your country of origin. In addition, if Vegas is your first entry into the United States, you will go through the International Terminal (Terminal 2 at McCarran International Airport), and you will have the opportunity to exchange money there. However, we hear the rates aren't very competitive at the airport, so shop around before you leave home and try to get the best deal through your local financial institution. You can bring up to $10,000 (or its foreign equivalent) into the country without having to declare it.
Q: Should I rent a car in order to get around in Vegas?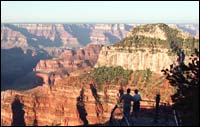 A: In our opinion, you don't really need one. As opposed to most cities in the world, Vegas is in the fortunate position of having an airport that is pretty much in the middle of the city (only three miles from the famed Las Vegas Strip), which means that a cab ride to your hotel won't set you back very much. Speaking of the airport: When going to most hotels on the Strip, make sure your cab driver takes Swenson and does not try to add a few dollars to the fare by going through the airport tunnel (which is an illegal practice known as "long-hauling").
As for tours of the Hoover Dam, Grand Canyon or anything else you want to do, let others do the driving for you. Check out our tours section and book your favorite adventure. In most cases, you will be picked up right at your hotel. In addition, cabs usually are easy to get in Vegas. If you can't find one, just head to the nearest hotel and stand in its well-organized taxi line. Last but not least, walking on the Strip is fun, and all the main hotels and attractions are fairly close together (but be don't forget to wear comfortable shoes, a hat or cap and to ALWAYS carry a bottle of water). Check out our Vegas hotel map to give you an idea. You might also want to ride our new monorail to rest your feet and enjoy some great views of the city. Check out our handy transportation page.
Q: What is the legal drinking age in Nevada? How about gaming?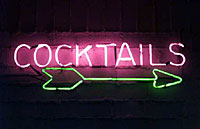 A: Good question. Any person who wants to consume alcohol in Las Vegas (or anywhere else in Nevada) has to be 21 or older -- no exceptions. We know this is very different from many other countries, but when in Rome, do as the Romans do (this applies in the whole city, not just at Caesars Palace). If you appear to be under age 30, be prepared to show some identification that you are not underage. If you are traveling with children, you should know that you will not be permitted to sit in the bar section of a restaurant when minors are present, even when they are not drinking. Also, you have to be at least 21 years old to gamble. Nevada state law also prohibits minors (even when they're accompanied by their parents) from loitering in casinos and gaming areas. They are allowed to walk through the casino on their way to a show, their room, shops, restaurants, etc., but they are not allowed to stand close by while their parents gamble. This is strictly enforced, and some hotels are stricter than others. The Bellagio has the strictest policy: You must be 18 years of age or a registered hotel guest to enter the Bellagio (there are a few exceptions; contact the Bellagio at 1-888-987-3456 for further details). On the other hand, Circus Circus makes it a point to welcome families with underage children, who can distract themselves with all kinds of games and activities on site while mommy and daddy place bets.
Q: I hear that Vegas is like the American version of Amsterdam. Is there any truth to that?
A: Well, for starters, our only charming canal is the indoor one at the Venetian. But we think what you are really asking is whether prostitution is legal in Vegas. It's not. While prostitution is legal in certain counties in the state of Nevada, it is not legal in Clark County, which is where Vegas is located. So, no, Vegas is not like Amsterdam. And just for the record: You will not be able to buy drugs in cafés. That's illegal, too. However, you can do all the gambling and partying you want.
Q: What are the guidelines for tipping?
A: Ahhh...you've hit upon one of the most common cultural faux pas for international visitors to the United States, let alone Las Vegas. Bottom line: You should tip. Vegas is a huge service economy, and almost everyone works for tips. Tipping is not compulsory, but a certain amount of a tip is expected by all employees who provide some kind of service. Still confused? Let us explain on our tipping page .
Q: We received the following question from an international traveler in his native language: My English vocabulary is restricted to beer, toilet, please and thank you. However, I would like to see a great Vegas show. Can you recommend one that speaks a universal language?
A: There's nothing like the universal language of love, music or whatever. There are plenty of great shows in Vegas, and we can recommend several for non-English speakers. First of all, any of the Cirque du Soleil shows are great, since they are very visual and require little understanding of the English language. We recommend "Mystère," " O " or " KÀ ."
"Le Reve" is another show that puts an emphasis on stunning visuals and the talents of high-skilled dancers, synchronized swimmers and gymnasts. You don't need to understand English to enjoy this spectacular production.
International superstars transcend every language. Understanding the lyrics isn't necessary to have appreciation for artists like Madonna and Elvis Presley. An awesome music-centered show worth going to see is "LOVE" (based on the Beatles' music).
Caesars Palace is home to several world-renowned headliners. Check out Celine Dion .
We've also noticed that there isn't much dialogue happening during most magic shows. It's the illusions that captivate the audience, and there's no shortage of awe-inspiring moments when master magician David Copperfield takes the stage.
Adult shows don't need any dialogue to keep audiences entertained either. The guys will enjoy Fantasy or X Burlesque and women will love the Chippendales or Thunder from Down Under.

Finally, our friends in the " Blue Man Group " communicate non-verbally to the unique beat of their own drums, and English isn't necessary to understand this show.
Q: I will be visiting from Europe, and I'm interested in seeing a European-style show while I am in town. Can you recommend one?
A: You are in luck, my friend. We like European stuff over here, and we have several shows to prove it. You might enjoy the visually stimulating " Zumanity, The Sensual Side of Cirque du Soleil". If you happen to have any inhibitions, make sure to leave them at home before stepping into this gorgeous theater. Thierry Mugler, one of France's premiere designers, created the outrageous outfits for the cast.
"Absinthe" combines old-world burlesque with world-class specialty acts in an adults-only, circus-style spectacular. The show takes place in a theater-setting reminiscent of the Moulin Rouge.
Q: I always hear that Vegas is the entertainment capital of the world, but what about restaurants? I love eating food from around the world whenever I travel. Do you have any suggestions?
A: Vegas is fast becoming the dining capital of the world as well. For the past few years, world-renowned chefs have decided to make Vegas their kitchen. Italian cuisine is well represented by Wolfgang Puck's Lupo , Piero Selvaggio's Valentino and Mario Batali's B&B Ristorante. French cuisine is showcased Andre's in the Monte Carlo, Comme Ça in The Cosmopolitan and at Mon Ami Gabi at Paris Las Vegas, which offers diners the experience of a Parisian outdoor café. Sushi Roku offers critically acclaimed modern Japanese fare in a Zen-like atmosphere.
But a trip to Vegas, and the United States, wouldn't be complete without a trip to one of our well-known steak houses. Prime at Bellagio, the very chic N9NE at the Palms are excellent choices to sink your teeth into some wonderfully juicy prime steaks, chops and seafood.