Lifestyle: The Hipster
"Hipster" is one of those ill-defined terms that everyone has a gut feeling about, but no one ever really straight up says they are one. That wouldn't be very hip at all.
But no worries, you might not call yourself a hipster, but deep down inside, you know that your sensibilities might lead to someone branding you as such. And if that's the case, this is the Vegas guide for you.
Q: I need some clothes somewhere between "I don't care about how I look" and "I actually put a lot of thought into this outfit, just don't tell anyone." Where should I go?
A: Las Vegas' Buffalo Exchange location (4110 S Maryland Parkway, 702-791-3960) offers new and "recycled" clothing from all eras, and will buy or trade your clothes toward some cash or (more) store credit.
You'd be remiss if you didn't stop by the Cosmopolitan shops for a peek at the custom sneakers at CRSVR Sneaker Boutique. Other unique shops here include AllSaints Spitalfields, Beckley, DNA2050, Droog, Jason of Beverly Hills, Molly Brown's Swimwear and STITCHED.
For a slightly more commercial scene (or just closer to your hotel) the Forum Shops at Caesars Palace or Fashion Show Mall for trendy wares to wear from H&M, American Apparel, Desigual and more -- or hit up Urban Outfitters at the Miracle Mile Shops at Planet Hollywood.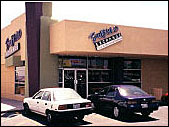 Q: Are there any other shops I should check out?
A: If you're looking for some good music, be it CD or vinyl, or if you just want to go all Pitchfork on someone about this week's album releases, Zia Records (4225 S. Eastern Ave. and 4503 W. Sahara Ave.) is your best bet. They carry new and used classics and rarities, as well as the latest releases.
Emergency Arts (520 Fremont Street) is a hospital-turned-creative collective housing a coffee house, boutiques, galleries and more. The Beat serves food and beer, and they even have a zine library for you to peruse or contribute to.
The Arts Factory (107 E. Charleston Blvd., 702-676-1111) is full of art galleries you can browse through, and you might even have the chance to talk with the artists themselves. The Arts Factory also is close to some funky antique stores, including Retro Vegas and The Funk House and is one of the big fixtures of the Arts District.
On that note, if you happen to be in the Arts District during First Friday, you are in for a treat. Part street festival, part art walk, there's bound to be something to impress each of your senses.
Q: What nightspots should I go to impress my hipster friends?
A: The Fremont East entertainment district has been hyped up in the past few years and rightfully so. There's a nice concentration of bars, from the hipsterest of hipster joints Beauty Bar, to uber-chic bar- patio-lounge Vanguard and the brilliant piano bar, Don't Tell Mama.
For the gamer in you, you can grab a PBR and play some "Simpsons" arcade with your three closest friends (you know, the three characters you didn't pick) at Insert Coin(s).
The Griffin has a warm, welcoming feel to it, but that could just be because of the fire pits. This place has one of the best jukeboxes in town -- but don't let that stop you from venturing to the back room and seeing what the DJ has to spin that night.
Downtown Cocktail Room has a dark, sexy, low-key lounge setting with a speakeasy atmosphere, bartenders that look like they work at a speakeasy and a chill electronic playlist that doesn't feel out of place - it's quite perfect, actually.
The Arts District has been picking up steam as a nightlife area as well, with Artifice, The Lady Silvia and Bar + Bistro serving up some spirited options for Las Vegas' hip crowd.
One classic spot is the Peppermill Fireside Lounge, blending retro kitsch with modern Vegas charm. They've got restaurant and lounge areas that seem to perpetually channel the Vegas of decades past, making for the perfect place to go after a night out for an affordable late-night breakfast or burger.
Q: I want to see a really epic show. What should I see?
A: When it comes to live music, Vegas has plenty of big concerts, as well as smaller acts. For the former, you'll want to check out one of Vegas' newer additions, The Cosmopolitan. They've hosted and will host some epic concerts: Adele, Smashing Pumpkins, The Black Keys, Bright Eyes, Foster the People, and Morrissey have or will make appearances at one or another of The Cosmopolitan's music venues. And there are always The Pearl at the Palms and The Joint at Hard Rock -- those two might not be the newest venues in the game, but that doesn't mean they don't nab some of the best acts.
If you want to catch what could be the next big band before they make it big, there are some great spots in Downtown Las Vegas to grab a beer and watch a band: Beauty Bar regularly books a variety of acts throughout the week, Bunkhouse is the place to be for punk, rockabilly, or your preferred something-core genre.
Q: Where can I find a good dinner in a hip, low-key atmosphere?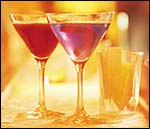 A: Try Triple George Grill downtown on Third Street for classic San Francisco-style seafood and steaks with a live piano-infused atmosphere. There's also Le Thai on Fremont Street if you want to expand your boundaries a bit.
Almost all of The Cosmopolitan of Las Vegas' dining options are too cool to avoid: tapas joint Jaleo, best-of-both-worlds Chinese/Mexican restaurant China Poblano, the-one-with-a-cow-in-front Holstein's, a hidden pizza place and more. Be sure to follow up with an after-dinner drink from one of the dapper mixologists at Chandelier Bar.
If late-night dining is your thing, the Hard Rock serves up another winner in Mr. Lucky's 24/7, which as good for its people-watching as for its 24-hour menu - you might even run into the band you just saw, if you're lucky.
Heading east of the Strip, the Mediterranean Cafe (adjoined to the Hookah Lounge) is, besides undeniably tasty, a scene unto itself. Other spots we favor are anything by Kerry Simon (Simon at Palms Place), and First or Lavo inside the Palazzo.