Lifestyle: The High Roller
There's a reason why high rollers are called "whales," and it's because they do everything big. They live big, they shop big, they dine big, they vacation big, but most importantly, they gamble even bigger. You've gotta plunk down about $500,000 an hour (minimum) to be considered a "whale." And that is when the best of Vegas is handed to you on a silver platter. For those of you dreaming of the high roller's life, let us help you embellish those dreams a bit.
Q: Where are the biggest suites?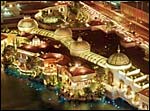 A: If you want to stay in the lap of luxury while visiting Sin City, the LVH - Las Vegas Hotel & Casino boasts the largest and most expensive suites in town with its Sky Villas, but MGM's The Mansion follows at a close second with suites at 10,000 square feet. Next on the list are Bellagio's The Villas, Caesars Palace's The Villas and the Venetian's suites. But if unique amenities are what you're looking for, how about your very own bowling alley at the Hard Rock ? Celebrate the many flavors of Absolut Vodka in the Absolut Suite at Caesars Palace . Downtown at Golden Nugget, the high roller suites are two stories and the master bedrooms have their own private entrance/exit into the hallway. Red Rock Resort's high roller suites feature amenities including private butlers, state-of-the-art surround sound systems and motion-sensor toilets with seat warmers.
Q: What are the classiest restaurants in town?
A: Wolfgang Puck's Spago is always an obvious choice when it comes to fine dining, but Aureole also is fantastic, and the restaurant features a three-story wine tower that will catch your attention. Other award-winning choices are Picasso at Bellagio and Morels at Palazzo.
Feeling a little French? Le Cirque at Bellagio will give you a certain joie de vivre with their French specialties. Don't miss the fabulous Joël Robuchon at The Mansion or Guy Savoy at Caesars Palace - you won't find them anywhere else in the U.S. Botero Steak at Encore is decorated with stunning sculpture by world renowned artist Fernando Botero.
For an unbeatable view, check out Mix atop THEhotel at Mandalay Bay. And the urban development CityCenter is home to come of the classiest restaurants in town, including Sage at Aria Resort & Casino and Twist at the Mandarin Oriental.
Q: What are the premier shows in town?
A: One of the most popular shows in Vegas is Cirque du Soleil's O at Bellagio. House of Blues and Hard Rock often showcase some of the music industry's hottest and most desirable performers, while MGM Grand Garden and the Mandalay Bay Events Center play host to a number of headliners as well as boxing events. Audiences can't help but fall in love with the Beatles-inspired LOVE at the Mirage.
Q: What private golf courses can I play?
A: High rollers from the MGM MIRAGE properties can play the course at Shadow Creek. Caesars Entertainment whales can play at the Cascata. And the big spenders at the Harrah's properties can golf the Rio Secco. The Wynn boasts an 18-hole Tom Fazio-designed championship golf course.
Q: Where can I go shopping and make some extravagant purchases?
A: In Vegas, everything is extravagant, especially the shopping. If you want to make a good dent in your wallet, be sure to stop by Versace and Gucci at the Forum Shops at Caesars and Hermes, Prada and Tiffany's at Via Bellagio. You also should make a trip to the Grand Canal Shoppes, which features shops like Davidoff, Movado and Burberry. Get your Manolo Blahnik fix at Wynn Esplanade, which also offers Cartier, Chanel and Dior -- or take the short walk across the Wynn for similar luxury brands at the Encore Esplanade . Fashion Show mall, home to Neiman Marcus, Louis Vuitton and Swarovski, is another great place to spend money. Also at the Fashion Show, Saks Fifth Avenue offers a personal shopping service for those who would rather spend their time taking in Vegas than in a mall.
If extravagance is what you seek, take a stroll down Appian Way at Caesars . The Shoppes at The Palazzo features some of the world's top designers and is home to the famous Barneys New York.
Crystals at CityCenter is more than just a mall, it's a retail district. With upscale shops like Louis Vuitton, Tiffany & Co., Roberto Cavalli and Cartier, Crystals also features public art, unique water features and a grand staircase.
Q: Where are the most exclusive nightclubs?
A: One thing we are great at in Las Vegas is treating VIPs like gold, and a good example of that are the nightclubs. You can literally be surrounded by gold at XS inside Encore where a gold-plated chandelier hangs above the dance floor. Marquee is the new kid on the block but it's run by the nightclub veterans behind Tao and Lavo. The biggest DJs in the world all play here on a monthly basis inside one of three different rooms or outside on the pool deck.
Pure at Caesars and The Bank at Bellagio are other excellent choices.
Q: What spas should I visit for some top-of-the-line pampering?
A: When people come to Vegas, they indulge. And maybe the best way to indulge yourself is with a massage, a facial or perhaps some time in the steam room. In any case, there are plenty of options if only the best will do. Aquae Sulis at the JW Marriott is best known for the Organic Fruit Facial, but the Canyon Ranch SpaClub at the Venetian is the largest spa in North America at 69,000 square feet. Qua Spa at Caesar's Palace offers the city's only Arctic Ice Room, while Drift Spa at Palms Place has the only Hammam, or Turkish bath. Check out the Zen Garden Massage at The Spa at Four Seasons, and be sure to stop by the eucalyptus steam room on your way out. How about getting a pedicure with a view of the Strip at The Spa at Encore ?