Lifestyle: The Food Fanatic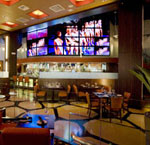 Palmer, Pellegrino and Puck; Moonen, Martorano and Mina; Bobby and Batali - you name it and Vegas has it. Come gourmands and foodies and enjoy!
Q: I've heard legends of some famous chefs, and now I want to try their food. Where can I find the restaurants influenced by these culinary magicians?
A: Many world-famous chefs have come to try their luck in Vegas in recent years.
The host with the most - restaurants, that is - has his stamp on Wolfgang Puck Bar & Grill at MGM Grand, Spago at Caesars Palace, Trattoria del Lupo at Mandalay Bay, Postrio at the Venetian, Wolfgang Puck Pizzeria & Cucina and CUT at The Palazzo.
Emeril Lagasse put his signature "bam!" on Table 10 at The Palazzo, Emeril's New Orleans Fish House at The MGM Grand and Delmonico Steakhouse at the Venetian. He also operates Lagasse's Stadium, a fully operational sports book on the lower level of the Palazzo that also serves Lagasse's Creole-style cuisine.
You might have also seen chefs like Hubert Keller, Kerry Simon, Rick Moonen and Mario Batali on television.They all have restaurants in Vegas. Keller's Fleur at Mandalay Bay takes small plate dining to a new level. There's always a party at Simon in Palms Place and RM Seafood at Mandalay Bay feature's Moonen's sustainable seafood menu.
MGM Grand has world class Chef Joël Robuchon, the only 3-Michelin star chef in Las Vegas. The resort also features Craftsteak from "Top Chef" judge Tom Colicchio.
Michael Mina has taken Vegas for a culinary ride with creations including Bellagio's Michael Mina, Aria's American Fish and Mandalay Bay's Stripsteak.
Popular TV chef Gordon Ramsay serves his famous beef Wellington at Gordon Ramsay Steak, more casual pub fare at Gordon Ramsay Pub & Grill at Caesars Palace and gourmet burgers at Gordon Ramsay BurGR.
Q: I'm trying to impress my spouse with a classy French dinner. Where is my best bet?
A: You can always head for a French Brasserie-style restaurant, such as Comme Ça at The Cosmopolitan or Bouchon at the Palazzo.Morels French Steakhouse & Bistro in the Palazzo offers a romantic atmosphere either in a cozy booth or outside with a great view of the Strip.
Bellagio's Le Cirque is recognized by AAA as a Five Diamond Restaurant. The Eiffel Tower Restaurant is a romantic French restaurant, while Mon Ami Gabi is lively and has a vibrant patio overlooking the Las Vegas Strip. Mix not only has a great view of the Las Vegas Strip, it is also created by culinary great Alain Ducasse.
If you are looking for tender escargot and a second floor cigar and cognac lounge, try Andre's. The long-time Las Vegas chef, Andre Rochat, ensures your meal will be an authentic taste of France.
Q: Where can I find the classic Vegas steak dinner, 24 hours a day?
A: The classic Vegas steak dinner is one of our favorites. A place that's easy on your wallet is Mr. Lucky's 24/7 at the Hard Rock. For a complete list of steak specials, click here.
Q: What about upscale steakhouses?
A: If you're willing to splurge, there are some great steaks out there. STK at The Cosmopolitan and Charlie Palmer Steak at Four Seasons offer mouth-watering cuts of beef, cooked to perfection. Craftsteak in MGM Grand also uses only top-quality ingredients.
If you're looking for an elegant but edgy place to dine, Jean Georges features steakhouse cuisine, in a luxe, modern setting. From Wolfgang Puck, CUT takes steak to new heights and Mario Batali's Carnevino also has quality beef.
For steak with a show, SW Steakhouse is a great place to relax and enjoy the Lake of Dreams. If you can do without the sideshow, Stripsteak and Prime are both delightful.
Q: I am the king of buffets, and food is my passion. Where do I eat?
A: Vegas will certainly satisfy your need. If gourmet is your thing, the Bellagio , Wynn and the Paris will do you right. Some other buffets worth digging into are the Bistro Buffet at the Palms as well as the Carnival World Buffet at the Rio and Cravings at the Mirage.
Q: I'm more of a Sunday brunch person. Where would you suggest I go?
A: A nice relaxing brunch you say? Try Mon Ami Gabi in the Paris hotel complete with Champagne and build-your-own bloody Mary bar. Simon at Palms Place has a boutique-style Sunday brunch including sushi, a Bloody Mary bar, junk food platters - and you can go in your pajamas. The Country Club at Wynn offers a Jazz creole brunch. The Sterling Brunch at Bally's (it's a bit pricey but well worth it) or the Gospel Brunch at the House of Blues at Mandalay Bay are also great.
Q: Good food in a swank atmosphere is very important to me. What are my options?
A: If you want a place that's as pleasing to the eye as it is to the palate, treat yourself to Bellagio's Picasso, featuring dozens of pieces by the Spanish artist himself, or Le Cirque, where you will see every gentleman sporting a jacket and tie. Sirio at Aria offers guests a classy dining room option as does Mix at Mandalay Bay and Bartolotta Ristorante di Mare at Wynn Las Vegas.
If you want a view that stretches beyond the dining décor, get in your reservations for Top of the World at the Stratosphere, Eiffel Tower Restaurant at Paris Las Vegas or Alizé at the Palms -- all offering a spectacular view of Vegas. If you like to dine outdoors, Todd English's Olives at Bellagio offers an up-close, remarkable view of the resort's dancing fountains.
With a wine tower complete with wine angels, you must try Aureole. If it's elegant Italian cuisine you're after, head to Sinatra, where you can dine among Grammy's, photos and memorabilia from Ole' Blue Eyes himself.
BarMasa is a modern, minimal room, but effectively creates the perfect ambiance for a business dinner or for a gathering of friends. If you're looking for ultra-lush atmosphere, head to Sage. Gorgeous aubergine velvet, mood lighting, accents, patterns and texture give this new-American restaurant a sophisticated edge.
Q: Where can I find a meal among memorabilia?
A: Vegas is loaded with themed restaurants. A few places worth mentioning are Hard Rock Cafe Las Vegas, House of Blues, Planet Hollywood, Rainforest Cafe, and, of course, Jimmy Buffett's Margaritaville.Toby Keith's I Love This Bar & Grill also features memorabilia.
Q: Where should I dine if I'm a vegetarian?
A:Wynn and Encore have vegetarian and vegan menus at all of their restaurants. Twist also has a vegetarian, vegan and gluten-free menu. Julian Serrano caters to veggie-friendly guests with vegetarian and vegan selections off the menu. Veggie lovers can find Paymon's Mediterranean Café on Maryland Parkway. Also, Vegas' many buffets offer a fine selection of meatless dishes. Check out our list of other vegetarian options in Vegas.
Q: I'm not exactly a vegetarian, but I would like to eat somewhere that has more health-conscious food. Where can I go?
A: If you want healthier cuisine without ditching the flavor, check out Sushi Roku at The Forum Shops at Caesars. These restaurants offer great sushi sure to tantalize your taste buds while still staying healthy.
Q: I have a huge sweet tooth, and I live for dessert. Where can I get my fix?
A: For a cool treat, you can't beat Serendipity 3 at Caesars Palace. Famous for their Frrrozen hot chocolate and mammoth sundaes, Serendipity 3 is located right on the Las Vegas Strip. If you're walking down the Strip and you're hit by a chocolate craving, stop by Ethel M Chocolates in the Showcase Mall. For a sit-down joint that offers desserts to die for, you must visit Jean-Philippe Pâtisserie and Cafe Gelato at the Bellagio. Payard also has delicious chocolate confections. If you want a taste of Vegas history, try Luv-It Frozen Custard, a Vegas institution. But for a new twist on an old standby, indulge in jelly-filled donut holes at STACK.
Q: Where can I find purely West Coast fast food?
A: Vegas offers two of the greatest joints ever conceived for the taste buds of man: Fatburger and In-N-Out.