Lifestyle: The Golfer
Vegas is known for its immaculate courses. And it is also known that while in Vegas you have a good chance of running into one of your favorite pro golfers. Pack those clubs and join us on the green.
Q: I want to golf while in Vegas, but I don't want to pay up the wazoo for a tee time. What's the best time to get a great deal in Vegas?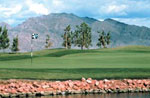 A: When December rolls around, the climate and the prices are just right for golfing. Aim for a twilight tee time in the winter, around 4-6 p.m. and you just might find a bargain. One thing to keep in mind is that early December in Vegas becomes cowboy central with the NFR folks in town and late December is the kick off for New Year's Eve. So, three words of wisdom: Book ridiculously early. If you can handle the heat in the summer, mid-day tee times are cheapest, but be careful - the desert sun can be brutal. One last tip: Head on over to Callaway Golf Center on the Strip for some affordable play.
Q: Are there any hotels that cater specifically to golfers?
A: Good question. We hear that guests of the MGM MIRAGE resorts are the only people who can play Shadow Creek. Patrons of Harrah's are offered preferential tee-times at Rio Secco. The folks at Caesars have a secret watering hole called Cascata. But only high rollers play that gig. And it's by invitation only. Guest of Wynn Las Vegas can tee off on the hotel's private course designed by Tom Fazio.
Q: Are there any restaurants near the golf courses where I can get a bite to eat after a round?
A: Many of the courses around town have restaurants. If you want gourmet with the golf course as the backdrop, pull up a chair at Cili at Bali Hai Golf Course. Rumor has it the restaurant at Legacy Golf Club is an old favorite around town too. The Country Club offers spectacular views of the Wynn Las Vegas golf course.
Q: Which courses are the crème de le crème courses in Vegas?
A: If you want championship play courses, you must reserve your tee time at Royal Links Golf Club, Siena, Bali Hai Golf Club or Red Rock Country Club.
Q: I like the desert scenery courses. What are my options?
A: Some of your best options are TPC Las Vegas, The Legacy, Red Rock Country Club or any of the Angel Park Clubs.
Q: What can I do to ensure getting a tee time in Vegas?
A: Make a reservation with us at VEGAS.com. Don't show up in Vegas without booking your tee time beforehand. Revere Golf Club - Lexington, Revere Golf Club - Concord and Rhodes Ranch Golf Club are great places to practice your swing. Here are some key things to keep in mind when it comes to golf in Sin City. First, for better tee time availabilities, try mid-week. Second, break away from the traditional morning tee time and try an afternoon and early evening round of golf. But remember, the caveat of booking in advance still applies.
Q: I need to brush up on my skills. Are there any good places to practice?
A:Desert Pines' fully-automated, two-tiered practice and teaching facility features 60 covered stalls with individually-controlled heaters for winter and misters for summer. It doesn't get any better than that. Angel Park also has a golf school and a putting course where you can practice one of the most important parts of your game.