Planning a Las Vegas Family Vacation
Vegas has something for everyone, even the kids. Follow our suggestions to maximize your family fun in Las Vegas!
Q: Where can I safely drop off my young children in Vegas while I gamble away their college funds?
A: Hey, we would never recommend dropping off kids anywhere or gambling away their college funds, especially when there are a number of attractions for the whole family in Vegas, including Excalibur's Fun Dungeon and Circus Circus' Adventuredome. Kids can kill a lot of hours at these places (and considering the prices of some games, they might kill their own college funds).
If you do want to gamble, though, there are a handful of hotels that offer child-care facilities on site. The Station Casinos properties boast professionally supervised activities in their Kid's Quest facilities. Children between the ages of 6 weeks and 12 years, can enjoy non-violent video games, an indoor playground, quiet zones, arts and crafts, karaoke and even nutritious meals. The concierge staff at most hotels can also arrange in-room babysitting to give parents like you some time to yourselves.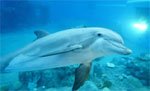 Q: My sister and husband are coming to Vegas with their 1-year-old. Will we be allowed in the casinos? Where can I take them? We want to show them at least one casino, but we have baby considerations, such as feeding, napping, strollers, etc. What can you recommend?
A: They'll be allowed to bring the baby into the casino if they're just passing through (to get to a restaurant, shopping, etc.) But babies and blackjack don't mix, so don't plan to sit down with a toddler at the tables. Also, the Bellagio does not allow children inside unless they're registered hotel guests, attending a show or dining with the family at one of the restaurants. Wynn Las Vegas and Encore, meanwhile, discourage the use of strollers. Take it from us, the best places to take a baby would be shopping or to the many attractions Vegas offers. Try the Shark Reef at Mandalay Bay (kids under 4 are admitted for free), the The Forum Shops at Caesars or the gardens at the Flamingo with live Chilean flamingos, Mandarin ducks and koi. Youngsters will definitely get a kick out of Siegfried & Roy's
Secret Garden and Dolphin Habitat at The Mirage.
Q: We are coming to Vegas with our 8- and 12-year-olds. What is there to do for kids this age that will still be fun for us?
A: Vegas may be Sin City, but there are still plenty of things that the whole family can enjoy: "Tournament of Kings" dinner theater (you get to eat with your hands!) at the Excalibur, the World's Largest Permanent Circus and a midway packed with carnival-style games at Circus Circus, hiking at Red Rock Canyon and Shark Reef at Mandalay Bay. The "Mac King Comedy Magic Show" at Harrah's is another good choice for children -- as well as for adults. Outfitted in a goofy plaid suit, King does whimsical tricks like catching a gold fish out of thin air while using a Fig Newton for bait and he makes innuendos that older audiences members will get a kick out of. Also, make a stop at the Welcome to Fabulous Las Vegas sign, which stands as a gateway to the city. Be sure to bring your camera so you can snap away.
If you want to get some shopping done, Caesars offers something for the whole family. Stop at The Forum Shops at Caesars, where the kids can enjoy the free Fall of Atlantis Fountain show. The stunning special effects will captivate them. Want to sneak some education in with some fun? Then take them to see Bodies...the Exhibition at Luxor, where your kids can check out all sorts of real-life bones and organs. The hotel also hosts another epic attraction that is sure to grab their attention, Titantic: The Artifact Exhibition. To show your kids -- as well as remind yourself -- how fun science can be, visit the interactive Discovery Children's Museum. Make sure to also stop by and check out all the exhibits, museums and demonstration gardens at the 180-acre Springs Preserve. Not only does it boast fun activities for all ages, but there's the Nature Exchange program for budding archeologists. For the adventurous preteens, they can experience the adrenaline rush with indoor cart racing at Pole Position Raceway. As long as they meet the height requirement, they're good to go.
Q: What is the best hotel to stay in with our kids?
A: Location rules in this category. Check out New York-New York for its roller coaster and the Coney Island Emporium, Mandalay Bay for the Shark Reef, any of the Station Casinos properties for their Kid's Quest facilities, movie theaters and arcades, and finally Circus Circus, which has the most kid-centric activities per square foot.
Q: What is the best free stuff to do with our kids in Vegas?
A: There are so many free attractions in Vegas, it's hard to know where to begin. First, you have the sheer wonder of just wandering around the Strip. There also are the wildlife-laden gardens at the Flamingo, the Fountains at Bellagio and the high-flying circus acts at Circus Circus. You also won't want to miss M&M's World at the Showcase Mall. The free 3-D movie "I Lost My 'M' in Vegas!" shows daily. Mount Charleston, which offers lots of outdoor fun year round, becomes a snowy wonderland each winter. There is also a great children's park at village-like Town Square Las Vegas. After you're done shopping, the kids can run off all their energy here. For more, check our free attractions page. That ought to keep you busy.
Q: We want a fun place to take the kids to eat. Any suggestions?
A: Vegas boasts a lot of dining alternatives that are great for the kids. The themed Rainforest Cafe inside the MGM Grand lets you dine among a 10,000-gallon saltwater aquarium and animatronic animals, and movie memorabilia is on display at Planet Hollywood in The Forum Shops at Caesars. Chow down on some burgers while enjoying a fun, island theme atmosphere at the Cheeseburger at the Oasis inside the Miracle Mile Shops at Planet Hollywood. Elephant Bar at The District is also a great place to take the kids. The safari theme and diversified menu makes it fun for everyone. If your kid is a picky eater, you can't go wrong with a buffet. You might want to call ahead to find out children's prices and special offers.