Occasion: The Day Trip
Is all the neon getting to you? Need a break from Sin City and want to experience what else we have to offer near Vegas? Let us tell you about some of our favorite getaways.

Q: I want to see some of the natural wonders near Vegas while I'm here, but I don't want to spend more than a day away. What are some of the spots I should visit?
A: When it comes to natural wonders, it doesn't get any bigger than the Grand Canyon. We can hook you up with any kind of tour you want -- air, bus, helicopter, sunrise, sunset...you name it. For some beautiful scenery a bit closer to Vegas, don't miss Red Rock Canyon, Valley of Fire, Mount Charleston and Lake Mead. We can also help you out with tours to these spots. Just check out our tours section. One other amazing place with a luminous landscape is Zion National Park in Utah. A little farther away, it's still an easy 2.5-hour drive from Las Vegas -- so if you set your alarm clock for sunrise, you can make it there and back in a day.
Q:What hotels are worth visiting off the Strip?
A: So glad you asked. Good dining deals, gambling, and recreational activities are all available in off-the-Strip hotels. Here are a few of our favorites.
The Red Rock Casino, Resort and Spa is a great place to go for a little R&R. Red Rock has a beautiful spa, a variety of casual and upscale dining options, an 87,000-square-foot casino and a tranquil pool. It also happens to be close to Red Rock Canyon.
Green Valley Ranch in the heart of Green Valley/Henderson also has great dining and shopping options. Walk outside the casino and step into The District, a modern outdoor shopping mall complete with stores, restaurants and a Whole Foods Market.
Located about 10 miles south of Mandalay Bay, M Resort offers remarkable views, a wine cellar with self-serve wine dispensers, a one-of-a-kind buffet and a breathtaking pool area that features concerts in the summer.
The Silverton hotel captures the feeling of a rustic mountain lodge and its home to the 165,00-square-foot outdoor enthusiast's paradise, the Bass Pro Shops Outdoor World.
Q: I want to do some recreational activities while I'm here, and I like adventure. What should I do?
A: If you like winter sports, head up to the Las Vegas Ski and Snowboard Resort and hit the slopes. Looking for some thrills in the water? Take one of our white-water rafting tours. If you prefer a vehicle for your adventure, try a Hummer, jeep or ATV tour. You can cruise through the desert and even explore a gold mine. If you feel the need for speed, don't miss out on the chance to drive or ride in a race car at the Las Vegas Motor Speedway. For another kind of adrenaline rush, try Bootleg Canyon Flightlines, where you can soar between mountains at speeds up to 50 mph. Maybe a slower pace is more your style: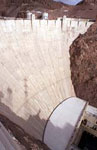 Why not hop on a horse and ride off into the sunset? As you can see, there's no shortage of recreational opportunities around Vegas. For more, just check out our recreation section.
Q: I'm looking for some interesting attractions near Vegas. What should I make sure to see/do?
A: Don't miss Hoover Dam, one of the engineering marvels of the world. Explore it up close on one of our manytours. Plus, now there's another engineering wonder in proximity -- the Mike O'Callaghan-Pat Tillman Memorial Bridge, which is often just referred to as the "Hoover Dam bypass bridge." This is the longest concrete arch bridge in the Western Hemisphere, and it sits 840 feet above the Colorado River. Explore the exhibits about its construction before stepping onto this remarkable structure for a breathtaking bird's-eye view of Hoover Dam and Black Canyon.