Lifestyle: The 18-20 crowd
So you're not quite legal, but you still want to enjoy the excitement of Vegas without being stuck doing kiddie stuff. We've got a few tips that will help make your trip memorable no matter what age you are.
Q: A bunch of us are coming to Vegas together and some of us aren't 21 yet. Are there any nightclubs we can go to?
A: Unfortunately, Vegas doesn't offer much in the way of nightlife for the under-21 set. However, we can tell you about a couple of cool places in town that allow all ages at some of their concerts. Check out the House of Blues at Mandalay Bay or The Joint at the Hard Rock Hotel. Both places periodically feature shows that welcome people of all ages. Music-loving beach bunnies can watch summertime concerts at Mandalay Beach.
Every second Saturday of the month, downtown hosts Vegas StrEATS, a food truck cultural festival open to all ages. But it's not just about food: Dance the night away to live entertainment (dance or hip-hop DJs, as well as street performers) and take a look at all the local artwork, fashion and more. Located in the Jackie Gaughan Plaza at El Cortez, the party starts at 6 p.m. and lasts until 2 a.m. The festival holds so much energy, that it almost feels like an outdoor nightclub.
Q: We're coming to Vegas and we know we can't hang out in the casinos if we're not 21. So, what can we do all day so we won't be bored?
A: In Vegas, you'll never be bored, no matter what age you are. There are so many things to do both on and off the Strip.
If you're into retro games like your parents, the Pinball Hall of Fame offers more than 200 pinball and arcade machines to choose from. Play all the pinball classics and even check out newer pinball machines like "Avatar" and "Iron Man." Don't forget to play the Tetris arcade game, which might be a reason on its own to bring an entire roll of quarters.
Check out our list of other attractions. There's something for everyone.

Q: If you're under 21 can you still go to all the famous Vegas shows?
A: Most shows in Vegas will allow people under 21. Check out some hip shows such as Blue Man Group or Cirque Du Soleil's Mystere and O or visit our shows page and check the age restrictions for the particular show that piques your interest. If you'd like to stay away from the kiddies, but aren't quite old enough to be in a bar yet, check out Cirque's Zumanity, which requires audience members to be 18 (and with good reason).
Get your laugh on while you're in town. Try the Improv at Harrah's , which allows 18 year olds. Everyone loves a magic shows, and Vegas has plenty of them. Witness shocking mind reading at Gerry McCambridge's show, The Mentalist .
Q: Just because I'm not 21 doesn't mean I'm boring. What kind of things can an under-21 adrenaline junkie do?
A: There's plenty! Try racing cars around at Pole Position Raceway or for a different kind of scenery, race down Flightlinez at Fremont Street Experience.
If you like thrill rides, head over to the The Roller Coaster at New York - New York or take a (fun) leap of faith at SkyJump Las Vegas at the Stratosphere. If you're into flying in the air rather than in a plane, try Vegas Indoor Skydiving.
Q: I'm in town for a bachelor/bachelorette party. Will I be allowed in the adult shows?
A: Each show has different age restrictions, but there are some adult shows that allow those 18 and older to enjoy, such as Crazy Girls and Fantasy. You could also check out the classic Jubilee at Bally's if you want to see stunning showgirls. Chippendales allows those 18 and older in their show, though ticket holders must be 21 to enter the adjacent Flirt Lounge. As for strip clubs, as long as the club does not serve alcohol, you're allowed in.
Try one of Vegas's hypnosis shows like Anthony Cools, who hypnotizes people into doing naughty things.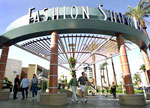 Q: We've done the shows and the attractions for people under 21 and there are still a few days left in our vacation. What next?
A: There's no shortage of interesting sights to see in and around Vegas. Have a look at our tours page and go exploring. You don't have to be 21 to shop. Grab that credit card and check out the Fashion Show mall, the Forum Shops,Grand Canal Shoppes or the Miracle Mile Shops. If you're into the fashion but don't want to look like everyone else, the Shops at Cosmopolitan has its unique share of stylish boutiques like CRSVR (pronounced "crossover), Beckley and RetroSpecs & Co.
For some deals, you can also head over to the Las Vegas Outlet Center. You're on vacation, so why not relax? Head to one of Vegas' many spas. As long as you're 18, you can indulge. You might also want to catch some rays by the pool or enjoy a great meal at one of Vegas' many unique restaurants. But if you want a permanent souvenir of Vegas, go home with a tattoo.
If you're a fan of the CSI TV shows, become a detective at CSI: The Experience at MGM Grand.