Lifestyle: The Cowboy
Once just a dusty water stop on the trip West, Vegas has a special place in its heart for all cowboys. From Helldorado Days in the '50s to the National Finals Rodeo (NFR) today, there are plenty of options to satisfy your inner John Wayne.
Q: What hotels can you recommend for the cowboy crowd?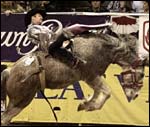 A: Sam's Town, whose decor recalls the Wild West, is a fine choice for you Western types. The Gold Coast and the South Point -- which features a complete Equestrian Complex -- are hot spots during the NFR and PBR. They offer a wide variety of country entertainment and also play host to a number of professional cowboy appearances. Other good choices include Texas Station and the Silverton for their Texas-style hospitality.
Q: Where can I go for a nice steak and some barbecue?
A: Urban cowboys can rustle up some grub at Gallagher's, modeled after the popular establishment in New York City. Some other great steak houses are Smith & Wollensky,Delmonico and Lawry's. The Golden Steer Steak House is an old Vegas favorite with its homey feel. If some good barbecue is more to your liking, be sure to venture off the Strip and grab a bite at Lucille's Smokehouse Bar-B-Que. If none of these suggestions got your mouth watering, take a look at a complete list of steak houses and barbecue joints in the area.
PBR Rock Bar & Grill, a rodeo-themed restaurant and bar serves up comfort food like burgers and chili. After dinner, take a spin on the mechanical bull.
Q: I want to get some new gear. Where should I start?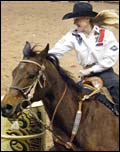 A: The Boot Barn, near Las Vegas Outlet Center, stocks boots, hats and other Western wear. Find it at 7265 S. Las Vegas Blvd. If it's boots you're looking for, though, make Cowtown Boots your first stop -- the store carries more than 10,000 pairs of boots. It's at 1080 E. Flamingo, or call (702) 737-8469.
D Bar J Hat Company specializes in hand making your special hat, renovation and repair of Western and dress hats; they designed the U.S team's hat wear for the 2002 Winter Olympics and the Roy Rogers Museum. Stop by and view their hat making equipment from the 1860s. Call them at (702) 430-0681 or visit them at 5960 Topaz Street, two blocks east of the airport near Eastern and Patrick.
And let us tell you, that Shepler's store on East Tropicana is what our lady friends would call a "cowboy's paradise." The store can be reached at (702) 898-3000. There is also a Shepler's inside Sam's Town Hotel Casino. There are also two gift shows that run through NFR season -- the National Finals Rodeo Gift Show and Cowboy Christmas.
Q: What are my entertainment options?
A:Toby Keith's I Love This Bar & Grill is a great place, located right on the Strip. Enjoy down home country food and drinks as well as live entertainment and dancing. You might even get lucky and spot the bar's namesake. If a little gambling is in order, head downstairs to Harrah's Toby Keith-inspired gambling pit, decorated with a country-themed décor.
You'll also find that pretty much any strip club is cowboy friendly. For shows, during NFR the options seem limitless -- acts pop up most often at the LVH, the Golden Nugget, MGM Grand,Mandalay Bay , and the Fremont Street Experience.
Q: After a long day on the range, where can a cowboy go to let loose?
A: Stoney's Rockin' Country is a cowboy's home away from home in Vegas. Complete with a mechanical bull, massive dance floor, and all-you-can-drink draft specials, it's a huge place, brimming with fun, so bring your whole posse. Gilley's Saloon and Dance Hall inside Treasure Island is another spot to kick up your heels. Dance, drink, ride the bull and grab some barbecue - it's all here under one roof.
Head out to Santa Fe Station to Revolver, a country bar with a large dance floor and mechanical bull.
PBR Rock Bar is a bull rider's paradise with a mechanical bull, PBR memorabilia and a large patio overlooking the Strip that is perfect for partying.