Lifestyle: The Barhopper
So you've had enough of gambling for awhile and want to relax with a few cocktails. Looking for somewhere to have a nice martini or a pint of ale? There's no shortage of options in Vegas.
Q: What are the coolest bars in town for the sophisticated crowd?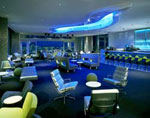 A: Nothing says sophistication like three bars nestled into 2 million beaded crystals. The Chandelier is not just aesthetically pleasing but features a cocktail menu unlike any bar you've ever seen. If you're downtown, don't miss The Griffin and Downtown Cocktail Room , which both have a classy chic vibe (make sure you're paying attention for the DCR entrance or you might miss it). Ghostbar at the Palms is where you might spot some celebrities while enjoying the fantastic view from the 55th floor. If you're looking for a cool bar in the literal sense, check out Minus 5 at Mandalay Place. Here you can sip your favorite drink surrounded by ice sculptures while you chill in the 23-degree Fahrenheit bar. Don't worry about being cold - there are coats, parkas and other cold-appropriate cover-ups provided for guests before they enter. There's nothing cooler than drinking in the massive, state-of-the-art CityCenter. Any of the watering holes inside Aria number among our faves, especially Gold Lounge and The Deuce Lounge. If you're just looking for a happening place to get your drink on and possibly meet some beautiful people, Center Bar at Hard Rock Hotel is the spot for you. This hotel always attracts good looking guests who want to party and this bar puts you right in the middle of all the action. Hostile Grape located at M Resort is the perfect spot to sip your favorite vintage. The Enomatic wine serving machines offer an array of tasting options and prices start around $2. When it comes to offering a cool and exotic vibe, no one can beat Frankie's Tiki Room , Sin City's only authentic tiki bar. Drinks like the Green Gasser and Lava Letch pack a punch that will have thinking you really are on a tropical island somewhere. For a complete list of our favorites, check out our bar section.
Q: What are the best bars for a bunch of college kids?
A: If beer by the pitcher, Beirut (also known as "beer pong,") and a rowdy college crowd are your ideas of fun, then head straight for Blondies Sports Bar & Grill in Planet Hollywood's Miracle Mile Shops. And for a raucous party, where even the staff joins in on the fun, check out Dick's Last Resort . If you're like us when we went to college, you like to drink on the cheap. Todd English P.U.B. offers up a free pint if you can slam your beer in seven seconds. Between attempts you can play beer pong or darts.
Q: I'm drunk and I feel like screaming into a microphone. Where can I sing karaoke in Vegas?
A: So you're ready to be the next headliner on the Strip. If you're ready to hit the stage a little earlier in evening, TJ's All-Star Karaoke Party at The Piano Bar at Harrah's goes from 6 - 9 p.m. Thursday - Sunday. Ellis Island is a well known karaoke hot spot that operates every night of the week from 9 p.m. to 3 a.m. It's located on Koval Lane, one block south of Flamingo Road behind Paris Las Vegas and Bally's . Their karaoke lounge is dark, smoky and basically the perfect venue to show off your inner rock god. Dino's Lounge, located downtown on the Strip, is another karaoke hot spot because of its diverse crowd. This dive bar offers cheap drinks, pool tables and an elevated stage where you can prove why you should be the next "American Idol."
Q: Are there any country-Western bars in Vegas?
A: Shine up your belt buckle and pull your boots on because you've got plenty of honky tonk options on the Strip. Toby Keith's I Love This Bar is the elder statesmen on the block. PBR Rock Bar brings country right onto the Strip with a walk-up entrance at Planet Hollywood. Gilley's Saloon was a mainstay at the since-demolished New Frontier but has found new life at Treasure Island thanks to its dance hall and bikini bull riding contest. Further south at Town Square on Las Vegas Boulevard is the massive Stoney's Rockin' Country, complete with a mechanical bull, giant dance floor and down-home atmosphere.
Q: Where can I go if I just want to drink and party?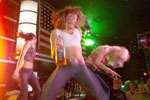 A:Diablo's Cantina in front of Monte Carlo offers a place to party where you can have a view of the Strip below. The bar area located on the second level features an outside patio where you can drink and dance the night away under the stars. In front of Harrah's you can get your drink on in a party pit to end all party pits, Carnaval Court . Here you can drink around the circle bar while watching the flair bartenders or bust a move near the stage to the tune of one of the music acts that play there. Further south on the Strip, Town Square is home to Blue Martini and Yard House ,which always host a good party. At Blue Martini you'll find a stylish crowd that's ready to party and various areas to enjoy a drink including several bars, a dance floor and stage area. If it's good beer you're after Yard House has around 200 on tap. Fremont Street Experience is a magnet for people who just want to drink and party without having to worry about dressing up or fitting in with a certain scene. Here you can get your swerve on under a canopy of lights while sipping a yard-long frozen margarita or other beverage offered at the various vendors scattered along the street. Live entertainment like cover bands or other street performers adds to the revelry. If you're in the area on the first Friday of the month bars in the Fremont East District like Beauty Bar , Downtown Cocktail Room put on a huge party with drink specials and special events at each bar.
Q: Where can I go to get a real pub experience?
It doesn't get any more authentic than Rí Rá at the Mandalay Bay Shoppes. The bar was salvaged from Irish relics and features the only Guinness store on American soil next door. If you want to relax, head to Crown and Anchor, a laid-back British pub perfect for downing a few pints or watching a soccer game. Nine Fine Irishmen inside New York-New York hosts live entertainment every night of the week where you can down a pint while doing a jig. Downtown Hennessey's Tavern is the perfect spot to down a few Irish car bombs on their outside patio. While it's not quite Cheers, McMullan's Irish Pub near Orleans puts on a pretty good effort. The family-owned and operated pub is a friendly place to enjoy a beer, weekly pub quizzes and some good conversation.

Q: What's a good place to grab and a drink and listen to some live music?
A:
The Bar at Times Square
has nightly dueling piano performances. Located directly on the Strip,
Jimmy Buffett's Margaritaville
is a jumping spot to get a bite to eat and of course, a few drinks. Live entertainment gets the crowd going on the dance floor or you can check out the tourists on the Strip from the outdoor patio.
Hard Rock Cafe
on the Strip hosts headliners and a chill spot to check out a vast selection of music memorabilia.
Back to the Vegas Guide