Planning a Vegas Bachelor/Bachelorette Party
There's no better town than Vegas to have one last wild night. So, all those looking for drinks and debauchery, follow these bachelor/bachelorette party tips!
Q: We want to have a wild time. Where should we stay?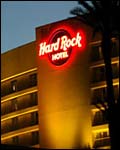 A: Without a doubt, at the Hard Rock or the Palms. They're loud, noisy, and may even drown out you rowdy party types (maybe). Or, to stay right in the center of things, try CityCenter, sleep (ha!) at Aria , party at Haze and be pretty darn close to anywhere you'd want to be.
Q: What restaurants cater to the rowdy crowd?
A: We've got just the thing -- Kahunaville at Treasure Island. Boy, is this place a treasure for partiers. There's flair bartending in the bar area. You may never want to leave.
Of course, you can find a similar atmosphere at Jimmy Buffet's Margaritaville at the Flamingo. And Dick's Last Resort at the Excalibur never lets us down when it's a crazy night we're after.
If country music is your thing, you can start the party at Toby Keith's I Love This Bar & Grill. Not only can you enjoy down-home cooking and a wild bar scene, but live country music and if you're lucky, Mr. Keith himself drops in from time to time!
Mr. Lucky's at the Hard Rock is also a great spot. You can sit and watch the world go by. Plus, it's open 24 hours. And, it can get quite loud. Whether it's got anything on you guys, that's another story.
Heading to the strip clubs? Spearmint Rhino, and Treasures offer full dining menus.
Q: We want to see a hot show before we go to the bachelor party. What do you suggest?
A:Fantasy is one hot little number, where the vixens play upon every man's wild fantasy. That doesn't sound too bad, right? And those Crazy Girls will really get your blood boiling -- perfect bachelor-party fare. And Zumanity, Cirque du Soleil's racy cabaret show at New York-New York, offers plenty to get you pumped -- including an orgiastic closing scene.
Q: Two words. Bachelorette Party.
A: Hey, this is Vegas and we have something for everyone. What about starting with a group trip to one of Vegas' fabulous spas? After being primped and prepped, start the night out at Chippendales. You think a jackhammer is loud? You haven't heard the ladies screaming in this showroom. The Chippendales want to make your experience the perfect girls night out with their Flirt Lounge. Flirt's all-male waitstaff was handpicked with a woman's pleasure in mind. Tastefully outfitted in the Chippendales fashion, all Flirt employees have undergone special "chivalry training." Another option is Thunder From Down Under. It's about some Australian "hotties." And the guys over at Sapphire strip club offer more risqué action with Men the Show. Or unleash your inner stripper at Stripper 101. Classes are for women only and actual exotic dance moves used at local gentlemen's clubs are taught.
Q: What are the best strip clubs in town?
A: Ah, so many strip clubs, so little time. These are the best: Sapphire. 71,000 square feet of pleasure. OG Gentlemen's Club, the only strip club on Las Vegas Blvd. is perfectly situated for the tourist.Finally Treasures looks and feels like the mad fantasies of Larry Flynt come to life. Of course, you can find information on all the strip clubs, including swingers clubs here.
Q: What other bars or clubs should we check out?
A: Here are some absolute musts: Marquee at The Cosmopolitan and Chateau at Paris Las Vegas are always packed with a party crowd. Also check out Haze at Aria. And if you get one of those bachelor suites at the Palms, you can take the party upstairs. TaoandLavousually have a few celebrities in the house, so if your ideal blowout involves Kim Kardashian or UFC fighters, don't miss those clubs.
Q: Where can we take our friend to celebrate her last night of freedom?

A: Once upon a time, OG Gentlemen's Club was the only strip club in Vegas that featured male dancers, but now two others, Sapphire and the Palomino Club (the only all-nude club serving alcohol), have joined the fray with their own beefcake revues. If you'd rather do the dancing yourself, hit a couple of the Vegas clubs. Head up to the VooDoo Lounge and toast your gal pal on the 51st floor of the Rio. If you stay at the Rio, check out the 180-degree suites, which offer a great view of the city. Tell them we sent you.