Occasion: The Anniversary
So you're coming to Vegas for your anniversary and you're looking for a romantic place to have dinner or some ideas for a special weekend. Don't worry, we have all the inside information on the best places to go, so here are a few tips.
Q: We are coming to Vegas for our anniversary. What restaurant do you recommend that is romantic, has good food and a great view?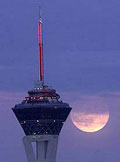 A: How about not one, but seven? Top Of The World at the Stratosphere has a fabulous view of the Strip and downtown Las Vegas. Over the course of an hour, the restaurant revolves 360 degrees for a stunning view of the city. We recommend arriving early to have a drink at the bar or popping up to the outdoor observation deck while the sun goes down. The Eiffel Tower Restaurant at Paris has a stunning view of the Bellagio Fountains across the street. The restaurant serves French classics in an elegant atmosphere, and caviar is available. Another option is Paris' Mon Ami Gabi, which offers dining right on the Strip.For spectacular interior and exterior views plus amazing food, enjoy Mix high atop the 64th floor at Mandalay Bay's THEhotel or Alizé at the Palms.
Q: My wife and I got married 12 years ago in Vegas, and we're coming back for our anniversary. What romantic things can we do?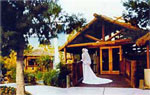 A: This is Vegas, baby. One out of every 20 marriages in the United States takes place here. So why not renew your vows while you're here? We can help you plan a perfect ceremony. Just check out our wedding guide for everything you need to know about reliving your special day here in Vegas. Also, take a look at the hotel chapels and see if you find one that's right for you.
Some hotel spas offer couples packages with massage and/or body treatments. The "Paris for Lovers" spa package at the Spa by Mandara at Paris is a perfect example. It includes a body exfoliation followed by private aroma bath whirlpool for two, topped off with a full body Aromatique Massage. The Canyon Ranch SpaClub at Venetian and The Grand Spa at The MGM also offer lavish spa treatments for couples.
If you want to head outdoors for some breathtaking scenery, take a champagne and chocolates cruise on the Gondolas at Lake Las Vegas.
But who are we kidding? You're probably going to spend most of your time in your room, so you'll want a romantic retreat. You'll be sure to find a beautiful room at the Venetian, Mandalay Bay, Four Seasons and Wynn Las Vegas. If you truly want to escape the glitz and glamour of the Strip, you can rent a cabin at Mount Charleston.
Q: We're a fun-loving couple and want to go all out on our trip to Vegas. How can we make this anniversary a year we'll remember forever?
A: Why not go on one of our many ATV excursions or helicopter tours? If you can't get enough of flying high together, check out Bootleg Canyon Flightlines, Vegas Indoor Skydiving and Zero G. Or, go head-to-head on an exciting indoor kart race at Pole Position. For other fun and thrilling escapades, check out our attractions page.
Q: Where can I buy something special for my sweetie?
A: Vegas offers some of the finest shops around. For something that sparkles, get your credit card warmed up and head to Tiffany's at Crystals or Via Bellagio. If unique flowers and chocolate will warm your honey's heart, try Jane Carroll's creations at Caesars Palace and the sweet treats at Vosges Haut-Chocolat at the Forum Shops at Caesars, Jean-Philippe Pâtisserie at Bellagio and Godiva Chocolatier at the Planet Hollywood. Instead of a dozen roses, why not share a box of a dozen cupcakes? The Cupcakery at Monte Carlo offers an array of flavors including red velvet, chocolate, coconut, lemon, strawberry and much more. Each come with different flavored frosting. And if you two want to relive your honeymoon, pick out something from the Love Jones lingerie boutique at the Hard Rock Hotel or Agent Provocateur at the Forum Shops .