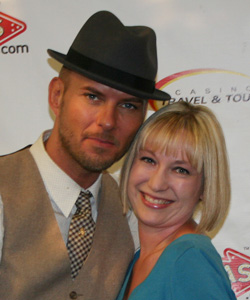 Latest Las Vegas articles by Kristine:

More articles available on
Las Vegas Blogs
.
Q & A with Kristine McKenzie
Why/when did you move here?
I moved here from Minnesota in 1994 after a particularly harsh winter. I wanted to escape from the cold weather and went to the other extreme. I'll take the heat over the cold any day though.
When did you start at VEGAS.com, and what does your job entail?
I started working at VEGAS.com as a content developer in 2001. My job entails going to shows, hotels, nightclubs, etc. and writing reviews so that customers know what to expect when they go to these places. I also get to do most of our dining reviews, which means I get to eat at all of the best new restaurants in Vegas.
What are your hobbies?
Movies, going to concerts, reading, skiing. Is shopping a hobby?
Give us a random fact about yourself
I can speak French pretty fluently.
Give us your top insider tips about Vegas
Must-Do's
Bellagio Fountains and Conservatory -- One of the most beautiful sights to see in Las Vegas is the Bellagio Fountains. The dancing water accompanied by music that changes for each show is simply breathtaking. Then you can head inside to the hotel's Conservatory, which features an amazing seasonal display of flowers and plants. The best part? Both of these attractions are free.
Tea service at the Mandarin Bar at Mandarin Oriental -- This bar, located on the 23rd floor of the hotel, features a stunning view of the Strip. During the day you can head up for classic tea service or grab a pastry or cupcake and some hot chocolate while you relax and take in the sights.
Red Rock Canyon -- Take at least one day to venture outside of the city and see that Las Vegas is more than just neon and casinos. Red Rock Canyon is a gorgeous National Conservation Area about 40 minutes from Vegas with a scenic drive, wildlife, hiking trails, rock climbing and of course, brilliantly-colored red rock formations.