On any weekend, Las Vegas offers plenty of comedy acts, whether it's a comedian performing in town for the weekend, or one of our resident comedic acts. The following is our list of our favorite on-going comedy shows in Las Vegas.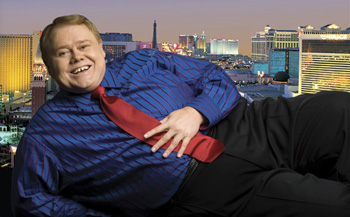 Louie Anderson at the Plaza
Emmy-award winning comic Louie Anderson offers a comedy show for the whole family – all while keeping it funny. He engages the audience warmly and gets to know them during his act. His jokes are clean and hilarious.
Mac King Comedy Magic Show at Harrah's
Mac King will hold you spellbound in his Old Vegas-style showroom while you're laughing at his hilarity. He has a flawless sleight-of-hand magic act and a corny imagination, paired with a Southerner's charm and offbeat showmanship. His unconventional magic tricks that defy the laws of physics stun spectators. The show is great for kids and adults alike. Mac King tells a few adult jokes, but they are subtle enough that most kids won't catch on.
Carrot Top at Luxor
Love him or hate him, Carrot Top continues to rake in great reviews from the audience. His comedy act is heavy on props and some really wacky inventions. His crazy red hair is a perfect complement for his wild onstage antics and uninhibited personality. Audiences are reduced to tears from hysterical laughter.
Jeff Civillico: Comedy in Action at The LINQ Hotel & Casino
Jeff Civillico gives a high energy, hilarious show that is fun for the whole family. As he's riding his unicycle, he's juggling and keeping the audience in stitches. Between his razor-sharp wit and his superb eye-hand coordination, his humor is appreciated by kids and the young-at-heart alike. Keep an eye out for his signature high kick and wedgie pull!
Penn & Teller at Rio
Dynamic duo Penn & Teller break the rules of magic. They'll show you how the trick is done, even informing the audience as the trick is being prepared. An edgy, humorous show, Penn acts as narrator, while Teller provides much of the show's action. Penn & Teller captivate their audience with tricks such as changing coins pouring into a fishbowl into goldfish. We still can't figure out how they did that!