What's a visit to Las Vegas without a little bit of sin? If it's naughty entertainment you're looking for, Sin City offers much in the way to get your night off to a steamy start. The following are some of our favorites, in no particular order.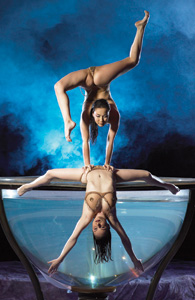 Zumanity at New York-New York
Zumanity is Cirque du Soleil's take on the sensual, erotic and raunchy side of human nature. Sure, there's still the acrobatics and gravity-defying stunts – performed with minimal costuming – but the playful nature of the show helps couple spice things up. Some of the numbers are definitely erotic, making you want to cuddle up to your date, while others are straight up hilarious. The show is emceed by the Mistress of Sensuality, a spicy drag queen.
Absinthe at Caesars Palace
Step inside the white tent in front of Caesars Palace and you are transported back to the Moulin Rouge. Hosted by the foul-mouthed ringleader The Gazillionaire and his assistant, Penny, Absinthe presents a cast of comedic eccentrics who perform everything from a burlesque-style striptease to tightrope acrobatics to incredible feats of strength. The show, with its dark humor, is sexy, raunchy and hilarious.
Chippendales at Rio
For the ladies, there's the all-male revue of Chippendales. Wearing the signature Chippendales' costume of little more than a bow-tie, wrist cuffs and jeans, the men easily fulfill many a lady's fantasy. The men are sexy and fun, and will flirt with the audience – even bringing a few of them on stage for some special attention! Be prepared to swoon over their hot dance moves and gorgeous bodies.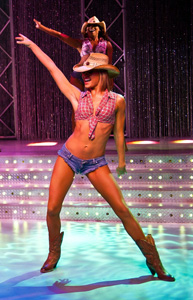 Fantasy at Luxor
Men are more likely to enjoy Fantasy with its female dancers who swivel their hips as they slowly peel off their clothes. Dressed (some less than others) as cowgirls, rockers and Latin dancers, the women perform numbers including a female-only ménage a trois and scintillating dance numbers. Between acts, the in-house comedian keeps things light. 
Pin Up at Stratosphere
Pin Up is a fun and sexy show for couples. The dancers – four women and a man – take you on a yearlong journey through a pinup calendar, starting with January, a number meant to warm up the audience. The show is hosted by 2011 Playboy Playmate of the Year Claire Sinclair, who makes appearances throughout the show. Although no one is completely topless, Claire does don pasties for a few numbers, including her main performance in the show's October scene, where spider pasties crawl from the center of her breasts.