You don't have to be a high roller to have a good time in Las Vegas. There are plenty of things to do for the budget-conscious visitor. Here are 20 ideas for ways to stay entertained in Vegas that won't break the bank.
"Jubilee!" Backstage Tour: ($19.50 or $14.50 with a purchase of a show ticket) Nothing says Vegas like showgirls and if you want an up close and personal look at the life of the famed Las Vegas dancer, you'll want to take the backstage tour at "Jubilee!" at Bally's. The tour is led by a cast member and takes you on an in-depth look at the show's costumes, props, headdresses and more.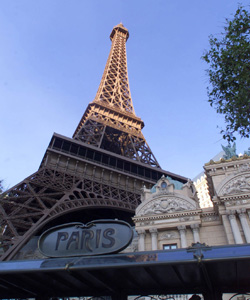 Eiffel Tower Experience: ($14 for adults during the day; $19 from 7:15 p.m. - close) The Eiffel Tower at Paris Las Vegas provides a spectacular view of the Strip, the Las Vegas valley and the Bellagio Fountains across the street from 460 feet up.
Welcome to Las Vegas Sign: (Free) This iconic symbol of Las Vegas has served as the backdrop for countless photos since its creation in 1959. The sign, located on the Strip just south of Russell Road, has a parking lot, which makes it easy to get to. During your visit, be sure to snap a photo at the famous spot, which was added to the National Register of Historic Places in 2009.
Bellagio Conservatory: (Free) Each year more than 5 million visitors stop by to see the beautiful flowers at the Conservatory. The stunning display of flowers, trees and plants changes five times a year with special themes for Chinese New Year, spring, summer, fall and winter.
Shark Reef at Mandalay Bay: ($18 for adults; $12 for children ages 5 - 12) The Shark Reef houses more than 1,200 species of marine life including sharks, sea turtles and exotic fish. Guests can also see reptiles and Komodo dragons or head to the touch pool where you can pet stingrays, eels and crabs.
Mr. Lucky's $7.77 special: ($7.77 with player's club card) The Gambler's Special at Mr. Lucky's in the Hard Rock Hotel includes steak, three grilled shrimp, a choice of potato or broccoli and a salad. It's not on the menu -- you'll have to ask your server -- and is available around the clock.
Prime rib night at Garden Court Buffet: ($14.99) Garden Court Buffet at Main Street Station downtown always has good food that doesn't cost a fortune but on Saturday nights you can also enjoy prime rib from 4 p.m. - 10 p.m. Along with the prime rib, sample the buffet's Italian, Mexican, Asian and dessert offerings.
Wildlife Habitat at the Flamingo: (Free) At the Flamingo's outdoor Wildlife Habitat, you can get up close and personal with pink flamingos, exotic ducks, koi fish and so much more. The winding walkways alongside streams and waterfalls, bridges over lagoons and ponds and benches scattered throughout the area make this attraction very peaceful.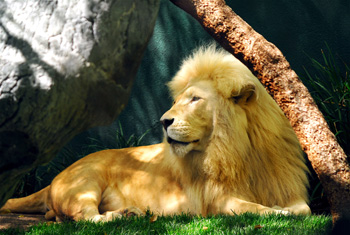 Siegfried and Roy's Secret Garden/Dolphin Habitat: ($19.95 for adults for both exhibits; $14.95 for children) The Secret Garden at The Mirage gives guests the opportunity to see some amazing wildlife on the Strip. The exhibits in the gardens showcase white tigers, lions and leopards. There is also a dolphin habitat where you can watch the cute creatures frolicking in their tank.
Shrimp cocktail at Golden Gate: ($3.99) When the Golden Gate introduced the shrimp cocktail to its casino in 1959, it started a Las Vegas tradition that continues today. The shrimp cocktail is served at Du-Par's restaurant in a tulip glass with secret cocktail sauce and fresh lemon.
Springs Preserve: ($18.95 for adults, $10.95 for children ages 5 - 17) The Springs Preserve is a 180-acre cultural and historic attraction about 15 minutes away from the Strip that offers state-of-the-art exhibits, galleries, hiking trails, live animal shows, a cafe and botanical gardens.
Gondola Ride: ($19.95) Pretend you're in Venice with a peaceful gondola ride through the Grand Canal Shoppes at the Venetian. The ride lasts about 15 minutes and you'll even be serenaded in Italian by your gondolier. Guests have a choice to ride indoors or outdoors along a lagoon in front of the hotel.
Discovery Children's Museum: ($14.50) Think about a kid in a candy store. Now imagine that the candy store is actually a three-story museum full of interactive exhibits promoting science, art and culture -- and your child's reaction is strikingly similar to being confronted with a three-story candy cane. That's the Discovery Children's Museum. Home to nine themed exhibition halls, the 58,000-square-foot museum entices children of all ages with a well-rounded array of learning experiences that feel a whole lot more like play.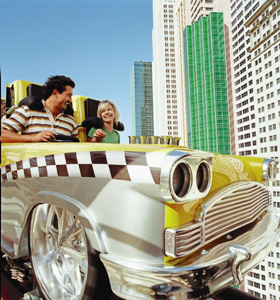 Roller Coaster at New York -New York:  ($14) This thrilling roller coaster ride features towering drops, multiple loops and amazing views of the Strip. You'll travel 67 mph through two inversions including a heartline twist and dive.
Auto Collections at The LINQ Hotel & Casino: ($11.95 for adults; $8 for children 6 - 12) You don't have to be a car aficionado to appreciate this collection of more than 300 automobiles including race cars, muscle cars, classic cars, military vehicles and exotic and luxury cars.
Bellagio Gallery of Fine Art: ($17 for ages 13 and older; kids 12 and under are free) The gallery presents world-class exhibitions of art and objects drawn from internationally known museums and private collections. Exhibitions have included Monet masterworks, Andy Warhol's celebrity portraits, Fabergé treasures from the Kremlin and Alexander Calder mobiles.
World's Largest Permanent Circus: (Free) High above the casino floor at Circus Circus, the acts of the World's Largest Permanent Circus delight patrons by performing death-defying stunts every half-hour between 11 a.m. and midnight. Acts include jugglers, unicyclists, trapeze artists and acrobats, to name a few. Each lasts about 10 minutes.
Fountains of Bellagio: (Free) At the Fountains of Bellagio, not only can you watch a spectacular dancing water show, but the style changes every 30 minutes (every 15 minutes after 7 p.m.). The fountains are choregraphed to more than 30 different songs, including holiday music that plams only seasonally.
Pool clubs:  ($10 - $20) Pool clubs are the place to party and cool off in Las Vegas during the summers and you don't have to shell out a lot of money to get in. Bare Pool Lounge at The Mirage (Sunday - Thursday), Liquid at Aria (Sunday - Thursday) and Marquee Dayclub at The Cosmopolitan of Las Vegas all charge $10 for women and $20 for men. Head over to the Palms Pool where you can join in the fun for $15 for ladies or $20 for guys.
The Aquarium at the Silverton Hotel:  (Free) Let your cares melt away as you watch 4,000-plus exotic fish swimming in the colorful Silverton Aquarium. It's easy to lose track of time just by watching these peaceful sea creatures. Fortunately, there are comfortable benches surrounding the aquarium for your lounging pleasure. There may not be a singing crab belting out Caribbean-sounding tunes, but there are "mermaids" swimming in 117,000-gallon reef aquarium. The mermaids swim among the fish and do everything from blowing bubbles to interacting with kids watching from the outside.