Nobody does a party like Vegas. This year's championship game is set to be a big deal -- especially here in Vegas.The best gridiron action will be in the Las Vegas race and sports books. For ideas about where to catch the game, check out our comprehensive guide! So book your trip to Vegas and get ready to enjoy the Big Game in style.
Best Vegas Sports Books
Looking for the ultimate place to watch the game? Check out some of our favorites (listed in alphabetical order).
Aria: Place your bets in a comfortable environment at the 10,000-square-foot Aria Race & Sports Book. Conveniently located off the main floor of Aria, guests can relax on comfortable couches or in chairs with separate monitors. A total of 90 monitors are placed throughout the sports book. There are also two 9 foot by 16 foot big screen televisions. More
Bellagio: The Bellagio race and sports book is one of the most luxurious places in the world to make bets and follow the action. Nestled in a corner of the upscale hotel-casino, the sports book is open and inviting, yet more intimate than some of the larger sports books found elsewhere in Vegas. From deep, plush leather commander's chairs to impeccable service, an understated but readily evident elegance is the theme here. Always catering to high rolling sports fans, the Bellagio has some of the highest betting limits in town. More
Caesars Palace: Pleasantly dark and atmospheric, the Caesars race and sports book is a quintessential Las Vegas "mega-book." Within the cavernous and exciting venue there are plenty of seats with individual TV monitors for horseplayers, and race and sports fans alike can follow the action on several monstrous TV screens and an ample number of smaller monitors. Plus, when hunger hits, Bobby Flay's excellent Mesa Grill is only steps away. More
Green Valley Ranch: Located minutes from the Strip, the huge race and sports book at Green Valley Ranch is a favorite among locals. 200-plus screens, many plasma, display sporting events of all types. With restaurants and shopping galore at Green Valley Ranch, you can arrive early and get in some extra fun before the big game. More
Hard Rock Hotel: The Hard Rock could be the perfect venue for music-loving sports fans. Bets on the big game can be placed at the sports book. The "world's first rock 'n' roll hotel and casino" is always full of action, and the sports book is certainly no exception. With 60 seats and 28 plasma screens, the sports book at Hard Rock offers a more intimate experience than most others found in Vegas. More
Imperial Palace: At the Imperial Palace, sports bettors are treated like royalty. So much so, they have an entire floor dedicated to them. Located on the third floor, the race and sports book comes complete with casino area, bar, race stadium and more. Built for the bettor, it is darker, older and grittier than others in town but has made a name for itself through the large number of unique proposition bets for big events such as the championship game. More
LVH - Las Vegas Hotel & Casino: When this sports book opened in 1986, it set the standard for a new generation of race and sports books in town. Boasting more than 400 seats, it soon became known as the original "SuperBook," the eighth wonder of the gambling world. And the sports book's 42 televisions make every seat in the house a good one. More
Lagasse's Stadium at the Palazzo: Lagasse's Stadium at the Palazzo features luxurious seating with plenty of pillows to sink into and watch your favorite game. A highlight of this sports-viewing mecca comes in the form of a large, 10-foot by 20-foot projection screen, complete with stadium style seating. Even better, Lagasse's Stadium at the Palazzo also has a tasty full menu designed by Emeril Lagasse and full bar.More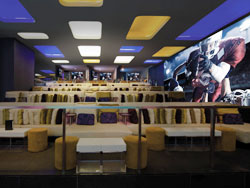 Mandalay Bay: With 84 TV screens and 300 seats, the sports book at Mandalay Bay is easily one of the best in town. Offering some of the highest betting limits in all sports, Mandalay Bay has grown accustomed to accepting bets of $100,000 or more for the big game. But even those less experienced will feel comfortable here, thanks to the helpful and knowledgeable staff on hand. More
MGM Grand: This modernistic, sleekly designed sports book offers an expansive, state-of-the-art vantage point into the big game. Even more, the VIP seats here create harbors for serious sports aficionados. Just off the sports book, Sunday revelers will find the architectural and mechanical mastery of the Centrifuge Bar. More
Planet Hollywood: Despite its intimate size, Planet Hollywood's race and sports book is cleverly designed, making every seat perfect. Seating areas are arranged stadium-style, and the 20 TVs (12 on each side of the book) are strategically placed on the bottom level for optimum viewing. The surrounding sports bar has additional seats and TVs and is a comfortable, modern place to enjoy a drink and catch some action. However, neither the sports bar nor book has a big-screen TV. More
Wynn: Steve Wynn's resort boasts one of the most luxuriant and exciting sports books.It merges state-of-the-art, multiple screened action with a deep wood-toned lounge setting. Just off the main floor of this stunning resort, the Wynn sports book is a popular place for high-rolling sports fans when the game gets going. More