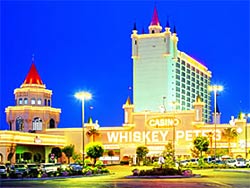 Location:
Jean/Primm
(
map
)

Book Online or
Call 1-866-9 VEGAS 9 (983-4279)
Hotel rooms from*
$27.95
Average rate per night
Number of Rooms 777.
Casino Yes, 36,400 square feet. Casino games include blackjack, mini-baccarat, Let It Ride and craps as well as plenty of slot and video poker machines.
Race & Sports Book No.
Restaurants Whiskey Pete's has the following dining options: the International House of Pancakes (IHOP) and McDonald's.
Entertainment Entertainment (comedians and other headliners) is featured in the Showbar Lounge.
Nightlife No.
Attractions Guests visiting the hotel can see two famous and historic cars: gangster Dutch Schultz's 1931 Lincoln (once driven by Al Capone's mob) and the Bonnie & Clyde "death car."
Pool Yes, one outdoor pool with a water slide.
Health Club or Fitness Equipment No, but guests are welcome to use the fitness center located in Primm Valley Resort & Casino.
Spa No, but the Spa at Primm Valley is located just across the I-15.
Shops Yes, an Everything's $10 store. The Fashion Outlets of Las Vegas (with more than 100 stores) is also located on the other side of the I-15.
Wedding Services No.
Business Center No.
Convention Rooms No, but convention and meeting facilities are available at the Primm Valley Resort & Casino.
Child-care Facilities No.
Room Service No.
Pets Allowed No.
In-Room Internet Access Yes, for an additional fee. Click here for details.
Hotel Amenities Wake-up calls, maid service.
Parking Garage Free parking; valet parking also available.
RV Park No, but there is free parking for RVs with no hookups.
Shuttle Service to the airport No.
Shuttle Service to the Strip No.
Wheelchair Accessible Rooms Yes.
Check-in Time 3 p.m.
Check-out Time Noon.
Minimum Age to Reserve a Room 21 years.
Policies The maximum total number of guests (adults and children) in a room is four.
Incidental Charges Whiskey Pete's requires a credit card or a cash deposit for incidental charges.
Resort Fee Whiskey Pete's does not have any resort fees.
Located 40 miles southwest of the Vegas Strip on the California/Nevada state line, Whiskey Pete's Western-themed resort offers a casino, a showroom and a shuttle to the other Primm-area properties, which offer more entertainment options and amenities.
It is the first hotel-casino California visitors pass on their way to Las Vegas and the last one they pass on their way home. Part of the Primm Valley trio of resorts at the Nevada/California state line, Whiskey Pete's Hotel & Casino has come a long way since beginning life as a two-pump gas station in the mid 1950s. Now boasting 777 rooms and some truly impressive neighbors, Whiskey Pete's has struck the motherlode.
The 36,400-square-foot casino affords those California-bound travelers one last chance to make a run on the tables, while a couple of casual eateries (IHOP and McDonald's) and a full-service bar/lounge sate any desires that remain. The 700-seat showroom has played host to everyone from Crystal Gayle to Gallagher. And free shuttle service (as well as a monorail system that runs on weekends only) is available to Whiskey Pete's sister resorts -- the Primm Valley Resort & Casino and Buffalo Bill's -- just across Interstate 15, both featuring a wealth of must-see attractions and amenities.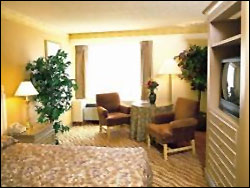 This 325-square-foot room offers either one king or two queen beds, a table with two chairs, a desk and a 25-inch television.
The bathroom features a shower only.
Amenities Include:
Air conditioning, Alarm clock, Climate control, Wireless Internet access (For a fee), Shower only, Complimentary toiletries, Television, Cable / Satellite television channels, Pay-Per-View movies, Radio, Telephone, Voice Mail
Rated

2.8

out of

5

 by

107

reviewers.
Rated

5

out of

5
 by
CindKae
Cheap price-nice hotel
The only issue was that the neat looking pool at Whiskey Petes wasn't open when we went there (end of March) However, they had us go across the street to their hotel pool. So at least the kids got to swim!:) Excellent price! Nice rooms
April 7, 2014
Rated

3

out of

5
 by
Chicagoabby
Dirty hotel, great price
Well, you get what you pay for. Great price. Old hotel. Dirty, dingy, hasn't been cleaned in YEARS! What a difference fresh carpet and paint would make! But, it's CHEAP! And, if you're not planning on spending much time in the room, it's just fine.
March 25, 2014
Rated

3

out of

5
 by
Cableguy91
Fair overall
Friendly staff rooms are good for the price . Great location and fun spot to hang out and relax
March 16, 2014
Rated

1

out of

5
 by
Bozzy
Ice machines, elevator, etc. did not work. Halls dingy and dirty.
Ice machines, elevator, etc. did not work. Halls dingy and dirty.
March 11, 2014
Rated

3

out of

5
 by
JLH1
Bareky Ok
Only if you must, but otherwise avoid staying at Whiskey Pete's, stay at Buffalo Bills.
February 25, 2014
Rated

2

out of

5
 by
teddy56
The Best Thing about This product Is The One Dollar Hot Dogs At The Bar.
The Lamp By The Bed Had No Bulb Inside, The Toilet Backed Up Twice, Only Mc Donalds And IHOP If Your Hungry (Besides The $1 Hot Dogs At The Bar) And Both Are Expensive,
February 17, 2014
Rated

1

out of

5
 by
Batchman
You get what you pay for.......
The carpet was new. That's all I have to say.....=-(......
January 3, 2014
Rated

3

out of

5
 by
Ffmik
Good price
Old hotel but the price was right. Had breakfast at IHOP inside the casino, it was good but VERY expensive.
November 2, 2013
For questions regarding a VEGAS.com purchase, please call 1-866-983-4279 or send us an email by clicking here.
*Sample prices shown are for select midweek (Sun-Thu) dates. Offer subject to change. Prices do not include taxes and fees. Based on availability.
*Terms and Conditions of Air + Hotel Packages and Promotions: Advertised air + hotel package prices include all domestic taxes and VEGAS.com-imposed air + hotel package fees. Sample prices shown are updated every Sunday and are per person, based on double occupancy, departing from featured cities on select weekdays between 30 and 52 out. Offers are subject to change. Based on availability. Seats are limited and may not be available on all flights. Some airlines charge baggage fees at airport or online check-in (Learn more). Some hotels charge additional fees at check-in (Learn more).