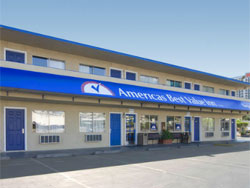 Location:
Off-Strip
(
map
)

Book Online or
Call 1-866-9 VEGAS 9 (983-4279)
Americas Best Value Inn
2_0
Hotel rooms from*
$29.95
Average rate per night
Number of Rooms 257.
Casino No.
Race & Sports Book No.
Restaurants Not in the hotel, but a 24-hour Coco's is located adjacent to hotel.
Entertainment No.
Nightlife No.
Attractions No.
Pool Yes, a pool and hot tub.
Health Club or Fitness Equipment No.
Spa No.
Shops No.
Wedding Services No.
Business Center No, but copying and fax services available.
Convention Rooms No.
Child-care Facilities No.
Room Service No.
Pets Allowed Yes. Pets under 50 pounds only are accepted for a charge.
In-Room Internet Access Yes, it's free. Click here for details.
Hotel Amenities Guest laundromat, maid service, wake-up calls.
Parking Garage No, but there is a free parking lot.
RV Park No.
Shuttle Service to the airport No.
Shuttle Service to the Strip No.
Wheelchair Accessible Rooms Yes.
Check-in Time 3 p.m.
Check-out Time 11 a.m.
Minimum Age to Reserve a Room 18.
Policies Children 17 and under stay free with an adult. The maximum total number of guests (adults and children) in a room is four.
Incidental Charges Hotel requires a credit card or a cash deposit for incidental charges.
Resort Fee Americas Best Value Inn does not have any resort fees.
Americas Best Value Inn has a prime location. It's just steps away from the Las Vegas Strip on Tropicana Avenue. It's also near many famous casinos -- like the MGM Grand, Tropicana, Excalibur and New York-New York.
The hotel's 257 rooms are basic yet comfortable. Amenities include a TV with free HBO, ESPN and Pay-Per-View movies. Guests also enjoy free local phone calls and wireless internet.
Americas Best Value Inn has a fine outdoor pool and hot tub. There's a basketball court for sports-loving guests. Other facilities on the property include a laundry area, a fax machine and an ice machine. 
Guests can check in anytime, thanks to the 24-hour lobby.
There are no restaurants on site, but there is a vending machine. Just next door is Coco's, a delicious bakery and coffee shop that's open 24 hours. Numerous other dining venues, bars and attractions are within walk distance of Americas Best Value Inn.
This 111-square-foot room comes with one queen bed. There's a cable TV with HBO, ESPN and Pay-Per-View movies. Guests can take advantage of free local phone calls and wireless internet.
The bathroom has a single sink and a combined tub/shower.
Amenities Include:
Air conditioning, Climate control, Electronic key, Daily maid service, Wireless Internet access (Free), Combined shower and bathtub, Complimentary toiletries, Television, Cable / Satellite television channels, Pay-Per-View movies, Telephone, Wake-up Calls
Rated

2.9

out of

5

 by

52

reviewers.
Rated

1

out of

5
 by
alo1181
just poor for.price
King size bed was the description and we got queen. Lighys in bathroom didn't work and neither did the door.
April 1, 2014
Rated

3

out of

5
 by
Loner20
Good Location
Nice budget motel with good location. Quick access to all the south strip casinos and easy access to freeway to bypass to the north strip. Outdoor pool and hot tub.
March 3, 2014
Rated

2

out of

5
 by
Baxter444
Really?
ABVI for short. It's what you'd expect for $40 to $50 a night right before New Year's Eve. Except that when in Vegas on say a Tues or Wed, you can practically state at ANY 4 star on the strip for about $10 more. The ONLY light/fan in the bathroom stopped working late in evening of our 2nd (out of two) nights. Super noisy but we managed to sleep through children literally slamming the door and running around above us, an outside HVAC unit perched about 4 feet from our only window and....blahblahblag it's cheap. Honestly for the location it's almost tolerable but ultimately, it was a mistake. The clincher was the drunk guy/girl trying to swipe their card into our room at 3am. I kinda scared them off by pounding on the door so that was fun.
January 1, 2014
Rated

2

out of

5
 by
Nannee
Good location
If you want to save money and won't be in your hotel much this is the place to go. Great for a budget vacation. No fridge or microwave. The room is very tiny and a little grimy for my taste bt it has a great location to start the end of the strip. Overall it was ok.
December 31, 2013
Rated

3

out of

5
 by
plamely56
Great location...walking distance from the strip.
Very basic hotel stay...no fridge or micro. Save your money for other events.
October 23, 2013
Rated

4

out of

5
 by
auntgizmo
America's Best was nice
The room was satisfactory everything worked (i.e. a/c, shower, sink&drains. nicely cleaned and well maintained.) My only problem was my room didn't have a comforter and we were assigned to building 8 which was next to the "laundry room" where the ice machine is and after being out on the strip all night it would have been nice to be able to get some ice for an iced beverage but the facility closes at 10p the one closest to the office was the only one open. too far to walk back to after you realize the one near your room is closed. Other than that it was great! AMAZING location comfy beds and pillows! I would definitely stay again for my next trip!
October 15, 2013
Rated

5

out of

5
 by
lsh1849
great for cost
Clean room for reasonable cost and close to airport
September 26, 2013
Rated

2

out of

5
 by
Lpm1
Hotel is good but need a little improvement on plumbing
For the price is good, only thing need to improve is the faucet on the sink its hard to adjust the hot and cold settings.
September 24, 2013
For questions regarding a VEGAS.com purchase, please call 1-866-983-4279 or send us an email by clicking here.
*Sample prices shown are for select midweek (Sun-Thu) dates. Offer subject to change. Prices do not include taxes and fees. Based on availability.
*Terms and Conditions of Air + Hotel Packages and Promotions: Advertised air + hotel package prices include all domestic taxes and VEGAS.com-imposed air + hotel package fees. Sample prices shown are updated every Sunday and are per person, based on double occupancy, departing from featured cities on select weekdays between 30 and 52 out. Offers are subject to change. Based on availability. Seats are limited and may not be available on all flights. Some airlines charge baggage fees at airport or online check-in (Learn more). Some hotels charge additional fees at check-in (Learn more).