New Year's Eve Parties 2014 - 2015

New Year's Eve Shows 2014 - 2015
New Year's Eve 2014 - 2015 Nightclub Parties
New Year's Eve at Light with Nicky Romero and Alesso
Date: Dec. 30 - 31
Price: From $30
Where: Light at Mandalay Bay
Renowned music producer and breakthrough star Nicky Romero and Grammy-nominated top-charted Swedish DJ/producer Alesso are this year's headliners for their 2015 New Year's celebration over two nights.
New Year's Eve at Hakkasan with Calvin Harris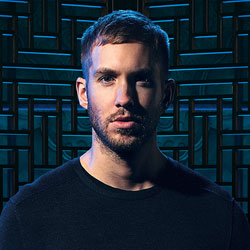 Date: Dec. 31
Price: From $100
Where: Hakkasan at MGM Grand
Resident DJ Calvin Harris will be the headlining artist for New Year's Eve Wednesday, Dec. 31. Hakkasan will host the ultimate adults-only nightlife celebration as revelers and the world-renowned DJ are set to come together to say goodbye to 2014 and toast in a new year.
Snoopadelic Cabaret with Snoop Dogg
Date: Dec. 31
Price: From $50
Where: Tao at the Venetian
Ladies can don their finest pearls and gentlemen will showcase their most dapper suits in true Roaring '20s fashion. The entire downstairs dining area will transform into the opulent Boss Lady Lounge, where guests will have an opportunity to see Snoop. The entire three-story venue will be filled with period-influenced entertainment acts throughout the evening. In the upstairs nightclub, Snoop will perform a special DJ Snoopadelic set as well as perform as Snoop Dogg atop the venue's LED stage overlooking the entire venue. Guests will enjoy heavily passed hors d'oeuvres from 9 p.m. - midnight and indulge in a premium open bar from 9 p.m. - 11 p.m.
New Year's Eve at Surrender with Lil Jon
Date: Dec. 31
Price: From $52
Where: Surrender at Encore
Wynn Las Vegas resident DJ Lil Jon will spin his chart-topping hits at Surrender Nightclub on New Year's Eve. The Grammy-winning rapper, producer and international DJ behind the club anthem "Turn Down for What" (with DJ Snake) will also lead the countdown to 2015. General admission is $52 for ladies and $77 for men and includes a two-hour open bar from 9 to 11 p.m. Open bar is available to general admission guests only.
New Year's Eve at Marquee with Drake
Date: Dec. 31
Price: From $100
Where: Marquee at The Cosmopolitan of Las Vegas
Grammy award-winner and hip hop heavy hitter Drake will celebrate the new year and ring in 2015 at Marquee Nightclub & Dayclub in Las Vegas. Pricing begins at $100 for females and $150 for males. Tickets include a celebratory champagne toast at midnight, two hour premium open bar from 9 p.m. to 11 p.m. and heavily passed hors d'oeuvres from 9 p.m. to midnight.
New Year's Eve 2014 - 2015 Events and Parties
Maroon 5
Date: Dec. 30 - 31
Price: From $99.50
Where: Mandalay Bay
Grammy Award-winning recording artist Maroon 5 will ring in 2015 with two special New Year's shows at the Mandalay Bay Events Center Monday, Dec. 30 and Tuesday, Dec. 31. Special guest Rozzi Crane is scheduled to open the show, which begins at 8 p.m.
Michael Feinstein
Date: Dec. 31
Price: From $49
Where: Smith Center
Ring out the old and ring in the new with Michael Feinstein, the multi-platinum-selling, two-time Emmy and five-time Grammy Award-nominated entertainer dubbed "The Ambassador of the Great American Songbook." This celebratory New Year's Eve performance will also feature Broadway star and Tony nominee Laura Osnes and "American Idol's" Jessica Sanchez.
Justin Timberlake
Date: Jan. 1 - 2
Price: From $89.50
Where: MGM Grand
Justin Timberlake will bring his two-year epic world tour to a close with two New Year's week shows Thursday, Jan. 1 and Friday, Jan. 2 at the MGM Grand Garden Arena. The 20/20 Experience World Tour shows will be filmed and directed by acclaimed American filmmaker, producer, and screenwriter Jonathan Demme.
108 Tower NYE Bash—Hosted by Claire Sinclair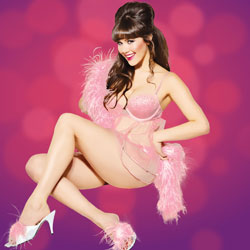 Date: Dec. 31
Price: Buy now from $249
Where: Stratosphere
Experience a sensational club-style party in the 108 Tower Party featuring star of Pin-Up and 2011 Playboy Playmate of the Year Claire Sinclair, with unlimited four-hour premium brand bar, models, go-go dancers, performance artists, DJ MAC spinning the latest hits, specialty drinks, a champagne toast at midnight to ring in the New Year, party favors and a spectacular view of the midnight fireworks. Guests will also enjoy several reception-style food stations and a free flowing chocolate fondue fountain.
Level 107 Lounge Party
Date: Dec. 31
Price: Buy now from $199
Where: Stratosphere
Stratosphere's Level 107 Lounge is offering a three-hour open bar on New Year's Eve featuring premium brand open bar, champagne toast at midnight, DJ Dezie spinning tunes, party favors and a special appetizer cash menu from the Top of the World kitchen. Enjoy the amazing views of midnight fireworks at the iconic Stratosphere Tower in a festive lounge atmosphere accompanied by great music.
Sabina Kelley's NYE After Party
Date: Jan. 1
Price: Buy now from $50
Where: Stratosphere
Party goers still wanting to keep the night going after the clock strikes midnight are invited to the After Party in the Stratosphere Theater, hhosted by international Pin Up Model Sabina Kelley. The party will feature go-go dancers, a light show, and three DJs that will mix all the latest and greatest music to keep everyone dancing. DJ Enoc: 12 a.m. – 1:45 a.m., DJ Girl6: 1:45 a.m. – 3:30 a.m. and DJ Presto One: 3:30 a.m. – 5:15 a.m. 
New Year's Eve 2014 - 2015 Restaurants
Top of the World Restaurant
Date: Dec. 31
Price: From $299
Where: Stratosphere Tower
Say goodbye to 2014 with an incredible five-course gourmet dining experience at the Top of the World restaurant. The restaurant features phenomenal views while revolving 360 degrees every 80 minutes. Executive Chef Rick Giffen has prepared a five-course menu to ring in the New Year with items such as braised beef short rib with star anise reduction, lobster bisque with lemon mascarpone cream and a dessert. There will also be party favors, cash bar and a sweet surprise to take home. Reservations are available from 5 p.m. to 11:30 p.m. in two-hour seating blocks. $299, per person.
Andrea's
Date: Dec. 31
Price: From $275
Where: Encore
Kick-off the evening at Andrea's with a special dinner tasting menu created by Executive Chef Joseph Elevado. The menu includes: chestnut soup with white truffle, poached Kumamoto oyster, pickled green apple; chef's assortment of kanburi sashimi, serrano pepper and king crab, mache, Asian pear, radish, yuzu kosho vinaigrette; Japanese tai snapper with Brussels sprouts, persimmon, caviar butter sauce; Japanese A5 sirloin with black truffle, shitake and foie gras stuffed daikon, sweet soy bordelaise; and dessert. Priced at $275, excluding gratuity and tax, the dinner tasting menu is available at 9 p.m. and includes a complimentary glass of champagne and reduced admission into Surrender Nightclub. 
B&B Ristorante
Date: Dec. 31
Price: From $115
Where: Venetian
B&B Ristorante will offer three New Years Eve menus with classic Italian New Year's dishes. The NYE tasting menu is $250 per person and includes oysters and caviar, veal carpaccio, cotechino, risotto, sea bream roasted in paper, veal finanziera alla Piemontese, Italian cheese cart service, bruciato, chocolate souffle and amaro and piccola pasticceria. The tradizionale menu is $165 per person and includes antipasti, pasta, whole grilled branzino for the table, a meat option and dessert. The prefisso menu is $115 and includes antipasti; garganelli Bolognese, lobster spaghetti or gnocchi with wild boar ragu; braised short rib al Barolo, roasted halibut with cauliflower and citrus, grilled sirloin steak with endive and "Brown and Blue Butter" or pork chop with Kuri Kuri squash, apples and green walnut. Dessert is cannoli with pistachio cream and chocolate, vanilla panna cotta with Cara Cara orange or gelati and sorbetti.
Carnevino
Date: Dec. 31
Price: From $75
Where: Palazzo
Carnevino offers four New Years Eve menus. The chef's tasting menu is $195 per person and includes soft poached egg, white truffle sformato, dry aged beef tortellini, cobia, dry aged bisteca di Fiorentina, coconut bruciato and chocolate cake. The menu tradizionale is $165 per person and includes antipasti, beef cheek ravioli or lobster anolini, dry aged ribeye or capo filetto for the table and peanut butter torta or cheesecake. A prix fixe menu is available for $135 per person including antipasti, an 8-ounce filet mignon, turbot or roasted game hen and tiramisu or a selection of gelato and sorbetti. For $75 per person, guests can enjoy the prefisso menu, which includes antipasti, an 8-ounce filet mignon, tagliatelle or roasted game hen and a selection of gelato and sorbetti.
New Year's Eve Las Vegas 2014 - 2015 Tips
New Year's Eve in Las Vegas -- the mere concept can make one tingle with anticipation at the prospects: carte blanche to enjoy the finest drinking, dining and dancing in the Entertainment Capital of the World with 300,000 of your closest friends and more celebrities than a year's worth of TMZ. The key to making New Year's Eve 2014 - 2015 in Vegas successful is planning ahead. Once you're down on the Strip, you don't want any surprises. So if you're choosing to join the masses ringing in 2015 in Sin City, make like a Boy Scout and be prepared with these tips: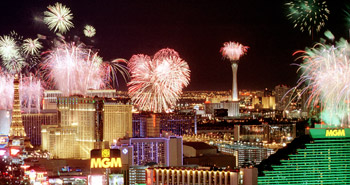 Book early. With all of the star-studded parties, fireworks and headliner concerts, there's nowhere else on earth quite like Las Vegas to ring in the New Year and everyone knows it. Hotel rooms sell out early and prices can soar for the holiday, so make sure to book your room as soon as possible to get the best prices and your first choice of accommodations.

 

Traffic can be challenging in Vegas on a regular day and when you throw in hundreds of thousands of extra people to the mix for New Year's Eve, it can be downright nasty. If you're planning to party on the Strip, get there early, even if you're going to attend an event or party within a casino. Las Vegas Metropolitan Police shut down Las Vegas Boulevard (better known as the Strip) between Sahara Avenue and Russell Road to cross-traffic as early as 6 p.m. If you need to travel across the Strip (east-west), use the Desert Inn super-arterial (which runs under the Strip). For north-south travel (parallel to Las Vegas Boulevard), try Frank Sinatra Drive to the west or Koval Lane to the east. Either way, plan extra time for jammed roads.

 

If you decide to stay on the Strip, the best ways to get around on New Year's Eve are by taxi, walking or using the Las Vegas Monorail. If you have a car and want to park in a hotel garage, you might want to choose one that's near one of the ends of the Strip rather than in the middle. It'll be easier to get out once you decide you've had enough and want to head back to your hotel. But please make sure you have a designated driver. You do want to live to see 2015, right?

 

In the 1960s Petula Clark sang: "Linger on the sidewalk where the neon signs are pretty. How can you lose? … things'll be great when you're Downtown" about New York City. Well, this may not be the Big Apple, but the party that takes place in downtown Las Vegas under the dazzling lighted canopy of the Fremont Street Experience rivals that of New York's Times Square … and is broadcast on just as many stations. You can party all night to the sounds of several popular live bands and watch fireworks on a gigantic Viva Vision LED screen.

 

If you're not a fan of huge throngs of people dancing or huge throngs of people standing around drinking then don't pick a club, Las Vegas Boulevard or the Fremont Street Experience as your New Year's Eve headquarters. A lot of the shows in town do something special for the occasion, too, so you could catch a Broadway show and then toast another year with a bunch of like-minded people.

 

This is Vegas and while the sun is almost always shining during the day and the temperatures can be quite pleasant, it is still the desert and it does cool off quite a bit at night, so be prepared if you're going to join the party outside on the Strip. Bundle up and save your cute little black dress for the indoor parties. On the other hand, don't forget to drink plenty of water.

 

Be aware that if you're trying to get into one of the jam-packed hotels on New Year's Eve, you could run into some technical difficulties. A number of Strip hotels, in an effort to keep the crowds inside within occupancy limits set by county officials, will allow only those with proof they are guests of the resorts to enter the properties during the height of the festivities outside.

 

Know your role. Unfortunately your mom is not a Las Vegas nightclub operations manager, so if you decided to go the club route for New Year's, you're not going to be treated like a celebrity unless you are a celebrity. Enjoy it for what it is and look forward to going back to the office or school and telling everybody you rang in 2015 with Kim Kardashian. We won't tell anyone that she stayed in the VIP area while you struck out with a group of USC co-eds, don't worry.

 

Be yourself, unless "yourself" is someone who makes boneheaded decisions and puts everyone else in danger. A lot of people look at Las Vegas as a place where bad behavior stays isolated, but we assure you, some things are inescapable. Hundreds of Las Vegas Metropolitan Police officers will be out on the Strip in full force for New Year's Eve, so if you decide Sin City is the perfect place to get drunk and assault somebody or get drunk and drive, those stupid ideas will follow you home ... and probably back here for a court appointment and jail time. You want a New Year's kiss, right? You know who's not getting a New Year's kiss? The guy sitting in the drunk tank or the girl checking into the emergency room. Keep the partying peaceful and everyone will have a good time.

 

Get high. If you took that to mean something other than getting to the highest possible elevation you can, then we look forward to seeing you getting arrested on the local news. Fireworks ringing in the New Year here are a great New Year's experience. But if you're sausaged between a bunch of people and bunch of tall buildings on the street, you're not going to see much, so check out places like the tops of parking garages or other buildings for the best view. Do not climb a lamppost. Those people make the news (and the trip down to the police station) every year.

 

It's officially 2015. The last firework has exploded, the final piece of confetti has drifted to the ground and your hangover has started to kick in. The city will begin to clean up the streets almost instantly, but that doesn't mean the party is over. You may want to head indoors, whether it's to get a bite to eat at one of several 24 hour cafes inside the hotels, to join the party at a nightclub or to seek little old fashioned Las Vegas fun in the casino. The Strip does not typically reopen until well after midnight, so if you're in a hurry to leave, you will want to heed our earlier advice on New Year's Eve transportation and travel. Otherwise you may as well plan on spending the first few hours of 2015 stuck in a traffic jam.