March Mayhem 2014 Events and Parties
Basketball viewing parties at Pure
Date: March 20 - 23
Where: Pure at Caesars Palace
Pure Nightclub inside Caesars Palace will welcome college basketball fans for an action-packed weekend inside its Pure Lounge with the ultimate viewing party experience Friday, March 20 through Sunday, March 23. From 9 a.m. to 10 p.m. daily, guests can kick back and enjoy the games with 32 widescreen HD televisions, a selection of premium seating, VIP table experiences and an array of game day cuisine.
Pure Lounge will offer the ideal skybox experience with exclusive beer and cocktail specials, as well as a variety of tasty bites including zesty chicken wings, BBQ pork sliders with pineapple slaw, grilled loaded chicken sandwiches, the infamous Dirty Chip "Nacho" and more.
Basketball viewing parties at Cabo Wabo
Date: March 20 - 23
Where: Planet Hollywood
Cabo Wabo Cantina inside Miracle Mile Shops at Planet Hollywood will be a great spot to cheer on NCAA teams during March Mayhem from Tuesday, March 18 through Monday, April 7. Partygoers can enjoy the Double-Shot special -- a 40-ounce drink-for-two made with four ounces of Cabo Wabo's signature Blanco tequila, triple sec, fresh lime juice and agave nectar. Choose from several flavors, including mango, lime, coconut, strawberry and prickly pear, priced at $32 each. For partiers who crave ice-cold beer, the patio will feature beer tubs with select imported and domestic brews and mixed beer bucket specials, with prices starting at $25.
All the basketball action will be shown on Cabo Wabo's high definition TVs throughout the cantina. Hoop fans will enjoy gametime eats with the nacho platter, served with a house cheese blend, refried beans, jalapeños, Cotija cheese, pico de gallo, sour cream and guacamole, and wash them down with mixed beer bucket specials or choose select beers from the beer tubs on Cabo's patio.
Hoops & Hops at The Chelsea
Date: March 20 - 23
Where: The Cosmopolitan
Hoops & Hops basketball viewing experience will take place inside The Chelsea at The Cosmopolitan of Las Vegas from 8 a.m. to 9 p.m. March 20 through 22, 2014. Hoops & Hops gives fans exciting basketball action in an exclusive sports lounge setting. In addition to featuring betting stations (open at 8 a.m. each day) and multiple televisions throughout the venue, guests will enjoy a number of interactive experiences including access to a basketball court, video game stations, pool tables and arcade games. Hoops & Hops guests have the choice of four distinct experiences: The Main includes open seating at high boy, long tables and bar seating, access to a basketball court, Wii video game stations, pool tables and arcade games and two complimentary beverages ($45 per day / $112.50 for a three-day pass). The Gallery includes access to The Main as well as prime viewing assigned seats, select open bar and complimentary snacks ($150 per day / $375 for a three-day pass). Floor Sofa seating features prime viewing that can be configured to fit parties from 2 to 10 people and includes access to The Main (Prices vary depending on party size). Gallery Box seating features prime viewing for parties ranging in size from 10 to 16 people and includes access to both The Main and The Gallery (Prices vary depending on party size).
March Hoops Mayhem at Rhumbar
Date: March 20 - 23
Where: The Mirage
Rhumbar at The Mirage Hotel & Casino will cater to college hoops fanatics with tournament tailgate parties featuring optional all-you-can-eat-and-drink packages Thursday, March 20, through Sunday, March 23. Rhumbar's multiple high-definition televisions and patio seating will create the perfect outdoor atmosphere to catch all of the action while enjoying unlimited drinks and tailgate fare. Packages start at $100 per person for a single day and go up to $250 per person for a four-day package. Sponsored by Coors Light and Belvedere Vodka, tailgate packages include unlimited well drinks, bloody marys, Coors Light bottles, breakfast burritos, chili, nachos, hot dogs and more. The fun starts at 8:30 a.m. and lasts until the sound of the final buzzer.
Party Package at Carmine's
Date: March 20 - 23; 27 - 30
Where: The Forum Shops at Caesars
Carmine's inside The Forum Shops at Caesars is offering a party package that ensures basketball fans won't miss a moment of the action. Available on game days March 20 – 23 and 27 – 30, a group of up to 25 basketball enthusiasts can enjoy an entire day of college games as Carmine's creates a hoops heaven. The ultimate man cave awaits as TVs, video games, recliners and a beer pong table set the stage for a day of tournament viewing in one of the exclusive private dining rooms. Fueling the party is an all day feast of family-style Italian favorites including a 45-ounce Porterhouse Contadina. Wash down the gigantic spread with bottomless cocktails, beer and wine.
Bragging rights and $1,000 will be on the line with an over-the-top free throw challenge from Carmine's Strip-view balcony. Spectators can then shake off the stress from a nail-biting game without missing any of the action as a massage therapist kneads out the knots. Fans will also receive a $100 Forum Shops gift card and a personal shopper who can assist in picking out a present sure to mollify any basketball widow. No one will leave empty handed with a custom flask to commemorate their time at Carmine's. In order to take the party into overtime, a visit from Hangover Heaven Bus will make sure everyone is in top form after a full day of eating and drinking, and ready to close out the night with a VIP experience at Pure Nightclub for after the matches.
Cost is $50,000 and reservations can be made through special events by calling 702.473.9700.
Carmine's has an additional package that will be offered on March 21 - 22. The restaurant will be bringing in six projection screens in addition to two big screen TVs and will feature sound for the marquee games. Carmine's will open at 8:45 am and offer the package until the last game of the day. Tickets start at $150 plus tax and gratuity and include an all-you-can-eat buffet with items like sausage and peppers, spaghetti and meatballs, penne alla vodka, unlimted draft beer and drink specials all day.
March Hoops at Tacos & Tequila
Date: March 1 - April 7
Where: Luxor
Tacos & Tequila (T&T) and Fantasy adult revue at Luxor Hotel and Casino will unite to bring basketball fans snack and show packages during March hoops. Packages will be available Saturday, March 1 – Monday, April 7 and start at $68 per person. Fans can enjoy a basketball bash complete with courtside favorites created by Corporate Executive Chef Saul Ortiz while watching every shot on T&T's high-definition flat-panel televisions. The ultimate package features Basketball Nachos made with Mexican meatballs, black beans, jalapeños, chipotle cheese sauce, guacamole, pico de gallo and crema fresca; a Jose Cuervo shot; the choice of a Dos Equis or Coors bottled beer and a ticket to see the sultry ladies of Fantasy. A snack package including Basketball Nachos, a Jose Cuervo shot and the choice of a Dos Equis or Coors bottled beer also will be available for $15 per person.
The Sports Bar at Crazy Horse III
Date: March 1 - April 7
Where: Crazy Horse III, 3525 W. Russell Rd.
Just in time for March Mayhem, fans can watch the games at The Sports Bar at Crazy Horse III, located just off the Las Vegas Strip. The gentlemen's club has introduced an on-site sports bar to expand its offerings for sports fans, complete with more than a dozen high-definition televisions and lush seating. Available during every game of the tournament, college basketball fanatics will enjoy happy hour from noon to 8 p.m., with specials such as the "Deer and a Beer" including a shot of Jägermeister and a Bud Light, priced at $6 as well as buckets filled with four Budweiser or Bud Light bottles, priced at $20.
Game Day Bites at Social House
Date: March 18 - April 7
Where: Crystals at CityCenter
Social House inside The Shops at Crystals has created "The Elite Ate" menu, featuring game day inspired cuisine and cocktails. Beginning Tuesday, March 18 through Monday, April 7, sports enthusiasts will be able to select from four bites and four TYKU sake cocktails, each priced at $8. This specialty menu will be available in the bar and lounge only, valid during all televised matchups. Food specials include: Wing and Advance, yuzu chili glazed chicken wings; The Fab Fries, fries layered with braised short rib, white cheddar, wasabi sour cream and green onion; The Pick and Salmon Roll, Scottish salmon, spicy aioli, avocado, wrapped in soy paper; and Crossover Crab Croquettes, King crab croquettes including Yukon Gold potatoes, green onion and wasabi crème fraiche. Drink specials include: Buzzer Beater, TYKU Coconut Nigori Sake, Canton ginger liqueur, pineapple juice, garnished with an orange wheel; Full Court Press, TYKU Soju, Ty Ku Citrus Liqueur, lime juice, simple syrup, lemon lime soda and garnished with a sugar can swizzle stick; Hail Mary, TYKU Soju, house-made wasabi bloody mary mix and garnished with green olives and lime; and Shot Clock (served as sake bomb), TYKU silver, Pabst blue ribbon.
March Hoopla at The Orleans
Date: March 20 - 23
Where: The Orleans
March Hoopla hits The Orleans from March 20 – 23, when guests can check out all-day basketball action on over 200 flat-screen TVs throughout the casino. Snack on a $1.50 Vienna Beef hot dog, or enjoy a $2 well drink at any casino bar. Special viewing parties will be held each day in the Mardi Gras Ballroom, Brendan's Irish Pub and Bourbon Street Lounge. Doors open at 9 a.m. each day and entrance is free.
March Mayhem at Rockhouse
Date: March 18 - April 7
Where: Venetian
Rockhouse, located inside the Grand Canal Shoppes at The Venetian | The Palazzo, will go crazy for college hoops with March Mayhem open bar packages from Tuesday, March 18, through Monday, April 7. Visitors can watch basketball all day and party all night from open until close, thanks to the bar's all-day open bar, priced at $200 per person. Rockhouse will also offer two shorter open bar sessions, from 8 a.m. until 4 p.m. or 4 p.m. until midnight, both priced at $125 per person. All open bar packages include guaranteed seating and complimentary cover.
March Mayhem at Rampart Casino
Date: March 20 - 23
Where: JW Marriott
Basketball fanatics will have a home at Rampart Casino with its B-Ball Madness Viewing Parties. The festivities will be held in the Grand Ballroom March 20 - 23. Sports fans can satisfy their hunger with mouth-watering food and drink specials including $1 hot dogs, $1 draft beers, $12 buckets of bottled beer, $5 baskets of wings and $3 soft pretzels served with mustard. In addition, the party will feature several snacks for $2 including popcorn, assorted bags of chips and chocolates, and the resort will offer a free coffee station. Doors open at 9 a.m. and games being at approximately 9:30 a.m. Each day, the bash will end as the last game concludes.
Basketball viewing parties at PBR Rock Bar
Date: March 18 - April 7
Where: Planet Hollywood
College hoops fans will enjoy bottomless drinks at PBR Rock Bar & Grill this March. Located inside Miracle Mile Shops at Planet Hollywood Resort & Casino, the rockin' party spot will have basketball enthusiasts cheering for March Mayhem open bar specials from Tuesday, March 18, through Monday, April 7. The bar has 105 high-definition televisions and all-day open bar access, priced at $200 per person. Partygoers may also choose between two shorter open bar sessions, from 8 a.m. until 4 p.m. or 4 p.m. until midnight, priced at $125 per person. All open bar packages include guaranteed seating.
March Basketball Game Day Specials at Chayo Mexican Kitchen + Tequila Bar
Date: March 20 - 23
Where: The Linq
To tip off the tournament, Chayo will offer breakfast items and open early at 8:30 a.m. on Thursday, March 20 through Saturday, March 22 and at 9:30 a.m. on Sunday, March 23. The breakfast menu, priced from $12 to $16, will include huevos a la Mexicana served with pico de gallo and refried beans; huevos rancheros made with sunny-side up eggs and salsa verde; molletes with chorizo, refried beans and Oaxaca cheese; breakfast burrito complete with refried beans and huevos Mexicana; and chilaquiles made with pulled chicken and cascabel sauce. Basketball enthusiasts may also enjoy $25 Corona Buckets, complete with five Coronas; two-for-one specials on house margaritas; and a free Corona with the purchase of a Sauza Blue shot. Featured snacks include Chayo nachos made with pulled pork, diced tomatoes, jalapeños, cheese sauce and Mexican cream, priced at $8; and two lobster or carnitas tacos with a draft beer, priced at $10. There are flat-screen TVs throughout the venue.
Beer, Brats and Basketball Madness at El Cortez
Date: March 20 - 22
Where: El Cortez
El Cortez will host a viewing party for the college men's basketball tournament in its Fiesta Room March 20 - 22. The party is open to the public each day during the following times: Thursday, March 20 and Friday, March 21, 9 a.m. – 9 p.m.; Saturday, March 22, 11 a.m. – 9 p.m. Guests can enjoy every game while taking advantage of a special viewing party menu that will feature $2 hot dogs and brats, and $3 Budweiser drafts. Additional stadium-style fare will also be available.
5th Annual Downtown Hoopstown
Date: Through April 8
Where: Fremont Street Experience
Fremont Street Experience invites college basketball fans to dribble down to the 5th Annual Downtown Hoopstown taking place through April 8. The four blocks underneath the Viva Vision canopy will be lined with college banners and flags as Fremont Street Experience transforms into the ultimate college basketball destination with special events including: nightly entertainment from the stage production show Hardwood Hotties featuring American Idol Season 6 Finalist Haley Scarnato, an interactiveHigh Hoops Zone, the world's largest NCAA bracket and a special basketball-themed show displayed on the 1,500 ft. Viva Vision canopy.
March Mania at The D
Date: March 20 - 23
Where: The D Las Vegas
To celebrate the college basketball tournament, the D Las Vegas invites guests to soak in the atmosphere of "March Mania" with viewing parties and T-shirt giveaways, beginning at tip-off Thursday, March 20 and lasting through the final buzzer on Sunday, March 23. For the duration of the tournament, the D's 12th floor ballroom will host viewing parties, which are free and open to the public. Every game will be broadcast on jumbo-screen TVs and there will be game day fare, including hot-off-the-grill American Coney Dogs, and a full-service bar stocked with specially priced drinks. Guests can also play blackjack and dice while rooting on their favorite team. Ensuring fans don't miss a second of the action, a pop-up William Hill US Sportsbook betting station will be conveniently located in the ballroom.
March Basketball at the Stratosphere
Date: March 20 - 23
Where: Stratosphere
March B-Ball Tournament HQ offers free admission into "sports headquarters" inside the Stratosphere Theater, which is set up with nine huge viewing screens around the room, providing fans with table seating and unobstructed views to easily keep track of their favorite games. Doors open daily at 8 a.m. where fans can also enjoy free wi-fi, live betting stations, blackjack tables, food specials, $9 Bud and Bud Light pitchers and a cash bar. Food specials can be ordered from your seat.
Top Sports Books for Watching March Mayhem
Aria: Place your bets in a comfortable environment at the 10,000-square-foot Aria Race & Sports Book. Conveniently located off the main floor of Aria, guests can relax on comfortable couches or in chairs with separate monitors. A total of 90 monitors are placed throughout the sports book. There are also two 9 foot by 16 foot big screen televisions. More
Bellagio: The Bellagio race and sports book is one of the most luxurious places in the world to make bets and follow the action. Nestled in a corner of the upscale hotel-casino, the sports book is open and inviting, yet more intimate than some of the larger sports books found elsewhere in Vegas. From deep, plush leather commander's chairs to impeccable service, an understated but readily evident elegance is the theme here. Always catering to high rolling sports fans, the Bellagio has some of the highest betting limits in town. There are 51 TVs plus 99 individual desks.  More
Caesars Palace: Pleasantly dark and atmospheric, the Caesars race and sports book is a quintessential Las Vegas "mega-book." Within the cavernous and exciting venue there are plenty of seats with individual TV monitors for horseplayers, and race and sports fans alike can follow the action on several monstrous TV screens and an ample number of smaller monitors. There are six 12 x 15-foot screens, 12 50-inch plasmas and a 20 by 50-foot LED board. There are 140 sports seats with a 12-inch flat screen at every table. Plus, when hunger hits, Bobby Flay's excellent Mesa Grill is only steps away. More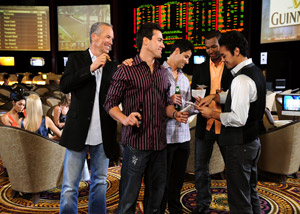 Green Valley Ranch: Located minutes from the Strip, the huge race and sports book at Green Valley Ranch is a favorite among locals. 200-plus screens, many plasma, display sporting events of all types. With restaurants and shopping galore at Green Valley Ranch, you can arrive early and get in some extra fun before the game. More
Hard Rock Hotel: The Hard Rock could be the perfect venue for music-loving sports fans. Bets on the games can be placed at the sports book. The "world's first rock 'n' roll hotel and casino" is always full of action, and the sports book is certainly no exception. With 6 HD projectors, configurable up to 25 screens total, the sports book at Hard Rock offers a more intimate experience than most others found in Vegas. More
LVH - Las Vegas Hotel & Casino: When the LVH sports book opened in 1986, it set the standard for a new generation of race and sports books in town. Boasting 350 seats, it soon became known as the original "SuperBook," the eighth wonder of the gambling world. The Superbook features 30,000 square feet with 28 giant screens, and one massive 15 by 20-foot screen for a grand total of more than 60 viewing monitors. More
Lagasse's Stadium at the Palazzo: Lagasse's Stadium at the Palazzo features luxurious seating with plenty of pillows to sink into and watch your favorite game. A highlight of this sports-viewing mecca comes in the form of a large, 10-foot by 20-foot projection screen, complete with stadium style seating. Even better, Lagasse's Stadium at the Palazzo also has a tasty full menu designed by Emeril Lagasse and full bar.More
Mandalay Bay: With 84 TV screens and 300 seats, the sports book at Mandalay Bay is easily one of the best in town. Offering some of the highest betting limits in all sports, Mandalay Bay has grown accustomed to accepting bets of $100,000 or more for the big game. But even those less experienced will feel comfortable here, thanks to the helpful and knowledgeable staff on hand. More
MGM Grand: This modernistic, sleekly designed sports book offers an expansive, state-of-the-art vantage point into the game. Even more, the VIP seats here create harbors for serious sports aficionados. Just off the sports book, Sunday revelers will find the architectural and mechanical mastery of the Centrifuge Bar. There are seats for 104 people and screens including 36 65-inch televisions and 24 42-inch plasma televisions.More
Planet Hollywood: Despite its intimate size, Planet Hollywood's race and sports book is cleverly designed, making every seat perfect. Seating areas are arranged stadium-style, and the 33 plasma TVs are strategically placed on the bottom level for optimum viewing. The surrounding sports bar has additional seats and TVs and is a comfortable, modern place to enjoy a drink and catch some action. However, neither the sports bar nor book has a big-screen TV. More
Wynn: Steve Wynn's resort boasts one of the most luxuriant and exciting sports books.It merges state-of-the-art, multiple screened action with a deep wood-toned lounge setting. There are 37 plasmas and three big screens, the largest of which is 12 feet by 12 feet. Just off the main floor of this stunning resort, the Wynn sports book is a popular place for high-rolling sports fans when the game gets going. More
Top Sports Bars for Watching March Mayhem
Looking for a place to cheer on your favorite team in Vegas? Of course, you'll want to choose a bar that offers tasty snacks, multiple beers on tap, numerous flat-screen TVs and a rowdy crowd. Don't worry, there are plenty of spots that fit the bill. If you're a sports fan, here are some of the hottest places to eat, drink and watch the day's big games in Sin City.
Tap at MGM Grand 
This 220-seat restaurant and sports bar features a wide selection of draught and bottled beers along with 60 flat-screen HD televisions. The food is also a winner at Tap thanks to items like the sloppy joes, cheese steak sliders and sourdough pretzels. And there's an extra incentive to go: you'll be surrounded by sports memorabilia from some of the biggest sporting events ever held in Las Vegas.
 The Pub at Monte Carlo
This is a fun place to kick back with friends while watching a game. The Pub boasts 130 beers on tap, so you'll be greeted by a wall of kegs upon entering. You can enjoy a mix of comfort food and pub classics, such as juicy burgers and the delicious shepherd's pie. Plus, big eaters can test their mettle with The Pub Challenge, an 8-pound feast that if downed in 45 minutes is free. With at least 35 televisions and wonderful $3 to $6 weekday happy hour specials offered from 3 – 6 p.m., the casual atmosphere is perfect for happy-go-lucky fans.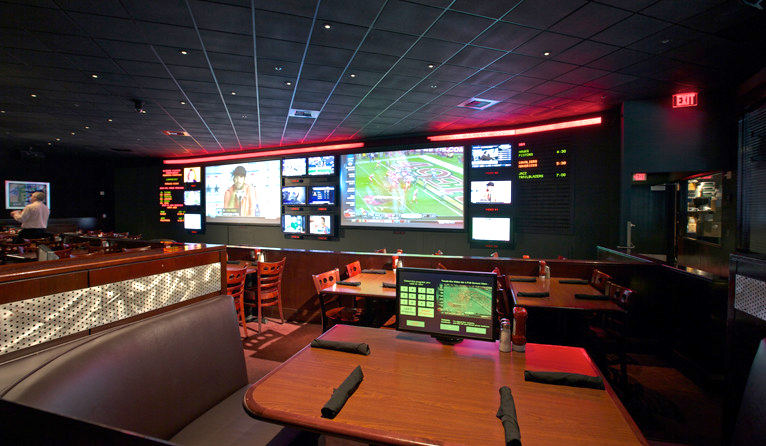 The Sporting House at New York-New York 
This sports bar is considered the "ultimate destination" for diehard sports fans, and there are some impressive stats to support that claim. First off, the two-story bar/grill is huge, spanning 33,000 square feet. Secondly, The Sporting House has 130 video monitors and two 16-foot screens inside its popular "Screening Room," which also boasts tiered seating so everyone has a perfect view. Finally, if watching your favorite team vie for the championship gives you an itch to play, there's a 10,000-square-foot game center filled with sports-themed challenges. Think you're a good shot? Prove it!
Lagasse's Stadium in The Palazzo
You'll be in expert hands here because celebrity chef Emeril Lagasse is an avid sports fan himself. A combination of a sports book, restaurant and lounge, Lagasse's Stadium has more than 100 HD screens and a menu of tailgating favorites with a New Orleans twist – like the shrimp po' boy or the pork nachos. If you want to splurge, splash out on one of the sky or luxury boxes, which feature comfy seating that will rival the feeling of being on your sofa at home…except that when halftime hits, you can play a game of billiards or step out onto the patio and take in a view of the Las Vegas Strip.
The Ainsworth at Hard Rock Hotel & Casino
The Ainsworth is an upscale lounge-meets-sports bar. Its stylish décor consists of leather seating and rustic chandeliers. Pine wood walls are dotted by antique-framed mirrors inset with flat-screen TVs. Although the menu is limited in selection to less than 15 items (including sliders, Buffalo wings and roasted teriyaki chicken), you won't be disappointed in any of them. A betting station allows you to make a wager without interrupting your meal, and you always can add a kick to your sports viewing by sipping on The Ainsworth's signature hot-and-spicy margarita with Tabasco.
Wicked Vicky Tavern at Riviera
If you're looking for a laid-back place to grab a bite and watch sports, this is it. Wicked Vicky Tavern is located on the resort's casino floor. It offers a selection of more than 100 beers as well as an all-day breakfast menu and other pub-style grub. 
Blondies Sports Bar & Grill in the Miracle Mile Shops at Planet Hollywood Resort & Casino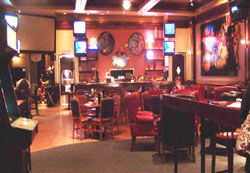 If you're seeking a tame and not-too-noisy sports joint, this is not the place. Blondies is best known for its over-the-top atmosphere where you'll be served by a sexy bar staff clad in cheerleader uniforms. There are more than 40 flat-screen TVs, ranging in size from 12 to 32 feet and broadcasting the day's major NCAA, NBA, NFL, NHL, MLB and NASCAR events. With beer pong tables always ready and waiting, it's no wonder why Blondies tends to be a hot hangout with college kids (and kids-at-heart).
Le Burger Brasserie Sports Grille at Paris Las Vegas
You might not think of this French-themed restaurant as a prime spot for American sports…mais oui, it is! Not only does Le Burger Brasserie showcase the hamburger – an American icon – on its menu, but it also fosters a sports bar environment with 13 flat-screen monitors spread around the dining room and an enormous 15-foot-by-15-foot television just inside the entrance. With more than 15 beers on tap as well as four kinds of french fries for nibbling, the game-time atmosphere is always très fun.
Yard House at The Linq
Located next to the eye-catching High Roller observation wheel, which is dazzling both by day and when lit at night, this 50th location of the popular Southern California-based chain. Encompassing two stories and more than 18,000 square feet, this is officially the largest Yard House in existence. Before you sit down in the bar, massive dining room or on the patio to watch sports (note: a fleet of flat-screen TVs is located throughout this place), stop and get a good look at the glass-enclosed keg room, which houses thousands of gallons of beer. In fact, if you're someone who likes making choices, you'll have more than you can imagine at Yard House. You can pick from a selection of 160 taps of imported, craft and specialty ales and lagers and 130 menu items ranging from sliders and lettuce wraps to flatbreads and street tacos.