Gambling 101: Classes turn beginners into bettors
By Kristine McKenzie 
VEGAS.com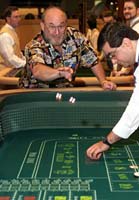 While many people who visit Las Vegas already know how to play the table games, there are the occasional visitors who have never set foot near a roulette wheel and have no idea what a stickman's job is.
The more people who know how to gamble, the happier Vegas casinos are, so many of them offer free gaming lessons to the public.
During a gaming lesson, the instructor will teach you the basic rules and the object of the game and then will usually deal out some example hands, showing you the different scenarios that can happen with each. Then, you usually get to "play" a few hands on your own, using practice chips (they don't let you play with the real thing) to see how you do and whether you're playing properly. The instructor also will explain the different odds and show you how you would be paid on each hand.
One word of advice -- these lessons can be fairly popular. Get there early if you want a seat at the table for hands-on practice. If you're late, you'll probably have to stand behind the table and just observe.
The gaming teachers are very friendly and are happy to answer any questions you might have, so don't be embarrassed about your lack of knowledge. Remember -- they want you to be able to go out and play these games after the class.
The lessons aren't strictly for newcomers. Even if you're a veteran gambler, you might want to learn a game you've never tried before, such as Let It Ride or Pai Gow poker. Or you might just pick up some helpful hints that will enhance your existing gaming skills.
Besides teaching the basic rules and strategy of each game, the lessons are a great way to learn the proper jargon and etiquette associated with each game. Believe it or not, there are a lot of little things you need to know that could save you from potentially embarrassing situations later. For example, if the dice fall off the table in craps, it's considered a cardinal sin by serious gamblers to set them back on the table. They must be handed directly to the dealer, who will inspect them for any signs of tampering before play resumes.
There also are things you should know so you don't anger the more seasoned players at your table. In craps, you should always try to roll the dice so they hit the end of the table -- the dice supposedly get a better bounce that way. If you don't, you risk annoying some of the other players.
The gaming lessons will teach you exactly what places you can and cannot touch on the tables and where you should place your cards or chips on the table -- all helpful things a beginner probably wouldn't know otherwise.
To get you started on the road to professional gambler-caliber skills, we've put together a list of casinos that offer gaming classes.
Boulder Station: Mon.-Fri; craps: 11 a.m.; blackjack: noon; roulette, Pai Gow & mini-baccarat: 1 p.m.
Circus Circus: Mon.-Fri.; blackjack: 10:30 a.m.; roulette: 11 a.m.; craps: 11:30 a.m.
Excalibur: Mon.-Fri.; roulette: 11 a.m.; blackjack: 11:30 a.m.; craps: noon.
Flamingo: Mon.-Fri.; craps. Call (702) 733-3111 for schedule.
Golden Nugget: Tues. and Thurs., blackjack: 10:15 a.m.; Wed. and Fri., craps: 11:15 a.m.; Mon., roulette: 11:15 a.m.
Imperial Palace: Craps: 11 a.m. and 3 p.m. Mon.-Thurs., 11 a.m. Fri.; blackjack: Mon.-Fri. at 9 a.m.; roulette: Mon.-Fri. at 10 a.m.; poker: daily, 11 a.m.
Monte Carlo: Mon.-Fri.; poker, 9 a.m. & 2 p.m.; craps: Mon., Tues., & Fri., 11 a.m.
Palace Station: Mon.-Fri.; craps: noon; blackjack: 11 a.m.
Sunset Station: Mon.-Fri.; craps: 3:30 p.m.; poker: Sun., 2 p.m. and Mon. 11 a.m.
Texas Station: Fri.-Sat.; craps: 6:30 p.m.
Tropicana: Wed.-Sat.; craps: 10 a.m.: blackjack: 11:15 a.m.; roulette: noon.