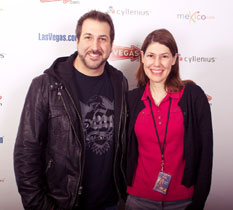 Renée, Vegas Expert
Originally from: Las Vegas. I was born and raised here.
Years in Vegas: All of them…except for a couple of years spent abroad.
Clubs visited: I've been to my fair share of Vegas clubs over the years, ranging from the long-gone Shark Club to some of today's trendier nightspots like Pure and Rain.
Number of clubs visited in one night: Usually it's just one. Instead of a club hopper, I'm more of a club settle-downer.
Bars visited: I'm familiar with many of the city's bars, but I enjoy the British and Irish pubs most -- especially on a quiz night.
Hotels visited: I've been to every hotel in Las Vegas except for Aliante Station, which is in the northernmost part of the valley. One of these days I'll get out there…
Upscale restaurants visited: Not so many. I'm not a gourmet. To me, a true dining delight is a plate of cheese fries.
Q and A with Renée
Why/when did you move here?
I was born here. Instead of a 24-hour party and gambling town, Las Vegas just feels like home to me.
When did you start at VEGAS.com, and what does your job entail?
I started at VEGAS.com in April of 2010. I'm a content developer, which entails of a variety of things including regularly updating information on hotels and occasionally reviewing shows.
What is your favorite thing about working at VEGAS.com?
Some of my favorite moments so far have been getting to go behind the scenes and visit the wig rooms of productions like "LOVE" and "Phantom -- The Las Vegas Spectacular." I've also interviewed a clown and a leprechaun.
What are your hobbies?
Even though I work on the Web, I enjoy reading books and magazines. I like hiking. There are some great trails in Boulder City and at Mount Charleston. I also travel whenever I get the chance. One of my greatest joys is sitting down to a cup of tea and a warm scone with jam and clotted cream.
Give us a random fact about yourself
I often feed stray cats. My friends, who were mad at me for feeding one near their house, have now adopted her and named her Renée.
Give us your top insider tips about Vegas
One of the coolest things about Las Vegas is that you can shop around the clock. The major retail centers in Strip hotels stay open until 11 p.m. on weekdays and midnight on weekends. Plus, most grocery, drug, liquor and convenience stores in town are open 24 hours, seven days a week.

Be careful at the buffets. You really can overdo it -- and who wants to spend a night in Vegas holed up in their hotel room holding their stomach? If you're going to a dinner buffet, eat modestly throughout the day. Although there will be countless items laid out to tempt you, try not load up on radically different foods. Dim sum, enchiladas, chicken parmigiana, Jello salad and cornbread should never be on the same plate. And don't forget to leave a small tip for the waitstaff, who bring your drinks and clear your plates.

Blog Updates
Renée Recommends
Shows
Restaurants
Attractions
Bellagio Conservatory
Hoover Dam
The Neon Museum and Boneyard