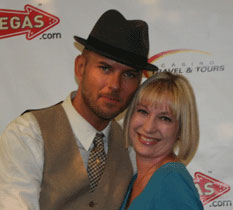 Kristine, Vegas Expert
Originally from: Duluth, Minnesota.
Years in Vegas: 18.
Clubs visited: If there's a club in Vegas that has existed in the last 10 years, I've been there.
Number of clubs visited in one night: Three.
Bars visited: See "Clubs visited."
Hotels visited: Pretty much every one in town. Can't think of one I haven't been to.
Upscale restaurants visited: 30.
Q and A with Kristine
Why/when did you move here?
I moved here in 1994 after a particularly harsh winter. I wanted to escape from the cold weather and went to the other extreme. I'll take the heat over the cold any day though.
When did you start at VEGAS.com, and what does your job entail?
I started working at VEGAS.com as a content developer in 2001. My job entails going to shows, hotels, restaurants, nightclubs, etc. and writing reviews so that customers know what to expect when they go to these places. I also make sure all of the content online is accurate and up-to-date.
What is your favorite thing about working at VEGAS.com?
It's a fun, relaxed atmosphere and the people are great - everyone gets along well and works well together.
What are your hobbies?
Movies, music, reading, skiing. Is shopping a hobby?
Give us a random fact about yourself
I can speak French pretty fluently.
Give us your top insider tips about Vegas

You can avoid a lot of the traffic on the Strip by learning some of the roads that run just behind the Strip like Koval Lane and Frank Sinatra Drive. A lot of hotels have back entrances off of these roads, which makes parking way easier.

If the weather is nice, head to the Town Square shopping center on Las Vegas Boulevard. It's an outdoor mall with great shops and several bars and restaurants with outdoor patios.
Blog Updates
More
Las Vegas Blogs
.
Kristine Recommends
Shows
Clubs
Attractions
Bellagio Fountains
Bellagio Conservatory
Shark Reef