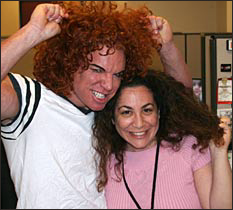 Aleza, Vegas Expert
Originally from: Las Vegas, Nevada.
Years in Vegas: A lady never tells.
Clubs visited: Does "Mommy and Me" count?
Number of clubs visited in one night: I'm fairly monogamous in my club attendance.
Bars visited: A lot.
Hotels visited: See "Bars visited."
Upscale restaurants visited: Not nearly enough! But I've eaten at just about every Denny's.
Q and A with Aleza
Why/when did you move here?
I was born here so I really didn't have much choice in the matter. I left for a few years after college, but I moved back to be closer to family.
When did you start at VEGAS.com, and what does your job entail?
I started working at VEGAS.com as the hotel writer in 2006. I left in 2010, but now I'm back (are you starting to see a pattern here?). Now I am covering spas, shopping, tours, attractions, art museums and weddings, etc., for the website and the blog.
What is your favorite thing about working at VEGAS.com?
I like the people, the environment, the free pie on Valentine's Day and the fact that there's a coffee machine about 2 feet from my desk. My son is a fan of the red Vegas.com arrow as he has been inundated with it since birth. I love being in the know about all things Vegas as well as interviewing interesting celebrities and influential people in the Vegas community.
What are your hobbies?
Yoga, writing, cooking, playing with my son, drinking coffee, obsessively organizing my closet. I used to be like kryptonite to houseplants, but I've developed quite the green thumb in recent years.
Give us a random fact about yourself
I once floated on a raft on the fountain in front of Caesars Palace.
Give us your top insider tips about Vegas
Downtown is undergoing a renaissance and is a must-see for all Vegas visitors, especially if you are here during First Friday. From art to theatre to bars, there is a ton of stuff to do in the 18b Arts District as well as Fremont Street East and the Fremont Street Experience.

If it's the weekend and you're in a hurry, don't try to drive on Las Vegas Boulevard between Tropicana and Sahara (The Strip) -- unless of course you're a masochist and enjoy sitting in traffic.