EDC - Electric Daisy Carnival - 2015 Tips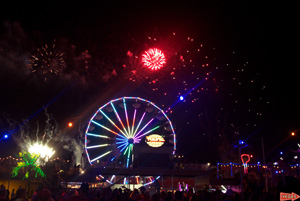 If aliens were to land on earth in the middle of the Electric Daily Carnival (EDC), they may very well climb back into their spaceship and fly back to their home planet scratching their oval heads in a state of confusion (but not before stocking up on a lifetime supply of glow sticks).
Located at the Las Vegas Motor Speedway, 20 miles from the Las Vegas Strip, this eclectic electronic music festival from Insomniac Events features an endless neon sea of glow-in-the-dark paraphernalia, painted faces, fuzzy boots, fireworks shows, carnival rides, live electronic dance music (EDM) and scantily clad (if at all clad) earthlings.
For three days, from dawn to dusk, it's also one of the happiest places on earth.
Take that, Disneyland.
While this year's festival will take place Friday through Sunday, June 19-21, 2015, we highly encourage EDM enthusiasts to arrive in Las Vegas earlier in the week. Many EDC artists will appear on the Las Vegas Strip throughout the week at a variety of nightclub and dayclub events. It's a fantastic opportunity to enjoy your favorite artists in a more intimate setting.
With close to 350,000 attendees, EDC is the opposite of intimate. That means it brings traffic and lots of it. Police and traffic attendants do a pretty good job of handling the volume, but it still helps to be prepared. Plan your driving route ahead of time and expect to wait in a long line of cars as you approach the Speedway. On that note, it's always a good idea to hit the bathroom before you leave for EDC since it may take awhile to park. If you can carpool with friends, do it. You'll not only save on fuel, but you'll save yourself from a huge parking headache.
You could also avoid driving by purchasing a three-day shuttle pass. This $80 pass provides you with transportation from your hotel or another location along the Las Vegas Strip to EDC and back each night. Better yet, book a VIP experience and travel to the Motor Speedway via Maverick Helicopters – Starting at $500, you'll avoid the traffic altogether and get a birds-eye-view of EDC.
If you do drive, try not to forget where you parked. Since parking takes place amongst hundreds of thousands of cars in an enormous sand lot with no recognizable landmarks, this is easier said than done. Since you don't want to end up wandering through the desert for 40 years (that's already been done), we suggest downloading a GPS car locator app that will help you find your car (and crossing your fingers that your cell service works).
Less is more at EDC. In other words, don't overdress. You're likely to see more exposed flesh under the electric sky than you would at the beach or even in the bedroom. You don't have to dress like a rebellious Catholic school girl, but remember it is the middle of summer. And when all those scantily clad bodies press up against one another as everyone crowds the stages in a trance, it can get pretty steamy.
Despite the lack of clothes, people at EDC love to accessorize and wear silly costumes (last year, we found Waldo). You can purchase fun accessories and costume pieces like neon glow necklaces and flower leis inside the Motor Speedway, but they aren't cheap. Save a few bucks and accessorize for the night beforehand.
On that note, most vendors only accept cash. It's never fun to stand in a long line waiting to buy beer, booze or a light-up foam sword only to find out the vendor won't accept your debit or credit card. A few ATMs are located on site, but you are better off avoiding the ATM fee and bringing cash along.
Be sure to drink lots of water. Las Vegas is in the desert. Between dancing, drinking and wandering from stage to stage you can easily become dehydrated. Call us crazy, but we're guessing you don't want to enjoy your favorite EDM artist from the back of an ambulance.