About Us
Vegas.com Press Releases
VEGAS.com Wins The Travel Industry Association's Odyssey Award for Best Domestic Advertising Campaign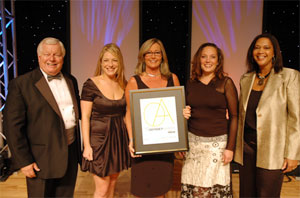 VEGAS.com accepts the 2006 TIA Odyssey Award for its advertising campaign at the annual Travel Industry Association (TIA) Gala in Boca Raton, Florida on October 12, 2006.

LAS VEGAS, NEVADA -- August 7, 2006…The Travel Industry Association (TIA) announced today that VEGAS.com's "Do Vegas Right" advertising campaign has won the Odyssey award for Best Domestic Advertising Campaign. TIA only awards one Odyssey in this category per year to recognize the best advertising campaign among hundreds of destinations, cities, hotels, attractions and theme parks.

This is the second time VEGAS.com has won an Odyssey Award since it began its marketing campaigns for tourism to the city in 2003, receiving the 2004 Odyssey Award for Best Domestic Marketing. This year, VEGAS.com is the only Las Vegas tourism entity to win an Odyssey Award. In 2004, The Las Vegas Convention and Visitors Authority won the Odyssey in the advertising category for its "What Happens Here, Stays Here," campaign.

"We're pleased to be recognized for our creative approach and success and we are proud that our methods have resulted in such strong growth for our partners," VEGAS.com President Howard Lefkowitz said, referring to the company's more than 100% increase in bookings in the past year. "We pride ourselves on being the best and will continue to work to ensure that VEGAS.com remains the top choice for visitors to Las Vegas."

The campaign includes television, print and online components and features a super-sized VEGAS.com arrow logo and utilizes the "Do Vegas Right" tagline.

The broadcast campaign shows people living their ho-hum lives who are suddenly interrupted by a neon-sign buzzing sound. They turn to see a large VEGAS.com arrow pointing toward an everyday object. After a short pause, each character approaches the object and encounters a portal that lands them in a middle of an outrageous Vegas experience, leaving the mundane world far behind.

The spots feature an array of Vegas attractions that appeal to a diverse audience mix. One features a construction worker who enters a cement mixer and finds himself the star of a Chippendales show. Another starts with a man barbecuing in his backyard who plunges into a blow-up kiddie pool only to surface in a hot tub overlooking the Vegas strip loaded with gorgeous women in bikinis.

TIA is the national, non-profit organization representing all components of the $646 billion travel industry. TIA's mission is to represent the whole of the U.S. travel industry to promote and facilitate increased travel to and within the United States.

The Odyssey Awards, the premier recognition program for the $646 billion travel and tourism industry, recognize outstanding achievements of TIA member organizations that have excelled in the past year, honoring groups that have demonstrated originality, creativity and effectiveness combined with notable, measurable results.

Odyssey Award recipients will be formally honored at TIA's Annual Awards Banquet, which takes place October 12 in Boca Raton, Florida.

About www.VEGAS.com

VEGAS.com is the largest city destination travel website in the world with extensive, constantly updated information and a full range of travel products including hotel rooms, air-hotel packages, show tickets, tours and golf. A state-of-the-art contact center provides customer support, expert information and sales 24 hours a day, 365 days a year to complement the information on www.VEGAS.com and www.espanol.Vegas.com. VEGAS.com through its Casino Travel & Tours unit operates retail and concierge desks are more than 30 locations including the Palms, Paris, MGM Grand, Bally's, Mandalay Bay, Excalibur, New York-New York, Luxor and more. The company also offers city tours, limousine service, and a variety of tours including the Hoover Dam and the Grand Canyon. VEGAS.com is a member of the Greenspun Family of Companies, a privately owned company operating in Southern Nevada for more than 60 years.