Our People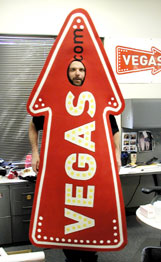 There's no secret why VEGAS.com competes head-to-head with the largest Internet travel sites in the world: It's our people. Their motivation. Their dedication. And, perhaps above all, their love of Vegas.
VEGAS.com-ers work hard together and play harder. They think outside the box, tackle problems creatively, inspire one another and congratulate each other on a job well done at the end of the day.
At VEGAS.com, when we talk about recruiting the best employees, we're talking about people who are passionate about working with cutting edge technologies, discovering new market opportunities or partnering with some of the world's leading destination properties to create the best possible Vegas experience for our customers.
Testimonials
"I think the one thing you notice right off at VEGAS.com is how talented people are here. I remember when I started here thinking 'How did they find all these unbelievable people?' -- and also thinking 'Did I get in over my head?' But after you work here a while you realize that whatever talent you came in with improves dramatically because everyone around you is working together and sharing their talent with you. It's an environment where you can't help but step up your game."
"The projects here are challenging - but at the end of the day it's the way we go about tackling projects that is so cool. Everyone pitches in, everyone challenges each other and everyone celebrates the victories. You're part of something much bigger here and you really feel like it."
"Imagine being encouraged and rewarded for doing your favorite thing every day. In a nutshell, that's VEGAS.com."
"Everyone here cares about what we're doing. We care about the people who visit our site or call our call center. We care about the products we sell. And we're constantly trying to make things better, easier to use and more valuable for our customers. And that makes for a pretty cool place to work, I'd say."
"It's one of the few places I've ever worked at where -- when you ask who is responsible for something, everyone seems to know. And they know, because they care about the product and believe in the product enough to take the time to know."
"We're building revolutionary products alongside talented people. This place is loaded with excitement, camaraderie, and vision."
VEGAS.com is an equal opportunity employer