About Us
Our History
VEGAS.com is part of the Greenspun Family of companies.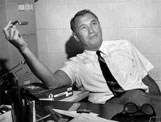 The Greenspun family has supported and helped Vegas grow for more than 60 years, starting with the publication of the oldest family-owned newspaper in Nevada, the Las Vegas Sun.
On May 21, 1950, Hank Greenspun published his first newspaper, beginning a life-long crusade to champion the little guy. As the Sun's reputation for in-depth reporting grew, so did its influence in political and community matters.
Under the leadership of Brian and Danny Greenspun, the family has continued in its dedication and interest in the Vegas community.
Other entities in the Greenspun Family of Companies include:
Publications
Las Vegas Sun - daily newspaper
VEGAS Magazine - national city magazine.
Las Vegas Magazine - city tourism publication located in 90 percent of Vegas hotel rooms (formerly ShowBiz Weekly )
VegasINC - weekly business newspaper
Las Vegas Weekly - weekly alternative newspaper
SkyMall - the shopping guide you find on most major airlines.
Cable and Broadcast Media
Ownership in Cox Communications
Commercial Real Estate
American Nevada Corporation, one of the largest land developers in Nevada
Gaming
Barley's Casino & Brewing Company
Travel Websites